Quarter of Welsh trains out of service, TfW admits in apology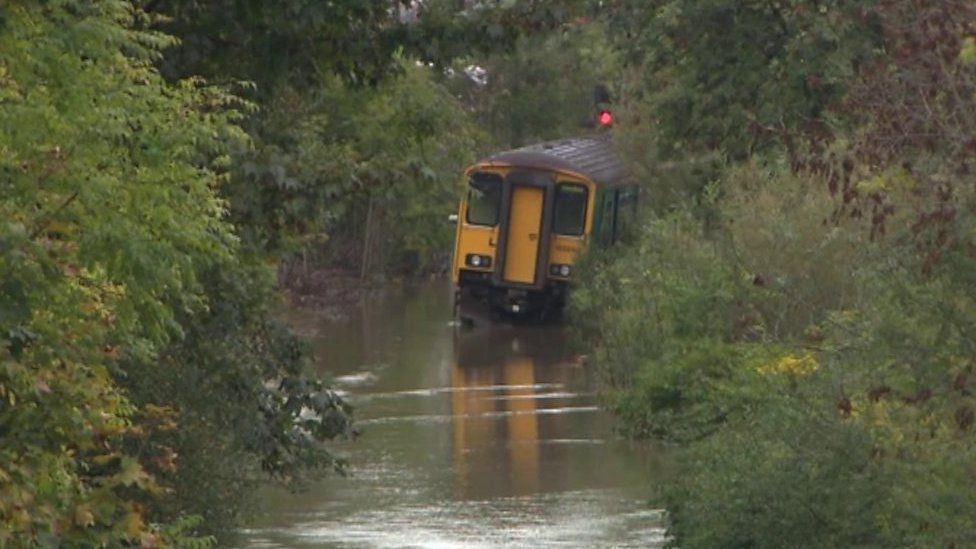 More than a quarter of trains in Wales are currently out of service, rail bosses admitted in newspaper adverts apologising to passengers.
Transport for Wales (TfW) and Network Rail took out full page ads in the Western Mail, South Wales Echo and Daily Post on Tuesday.
They said 36 of Wales' 127 trains are being repaired - causing delays and cancellations in recent weeks.
TfW and Network Rail admitted passengers "deserve better".
But commuter Gregg Johnston dismissed the apologies as "hollow."
"It's like the old adage, if you fail to plan, you plan to fail. I could have told them there would be storms in winter," he said.
Mr Johnston, 38, gets the train from Newport to Cardiff every day for his job at Cardiff University.
He added: "When you are stood on a platform, and you have to get somewhere urgently, and the train comes up as cancelled, then the apology rings hollow."
Another traveller has described a particularly "difficult day" with hold-ups caused by trains not running and replacement bus services running late.
Phil Owen, 64, got on a train at Llandeilo, Carmarthenshire, hoping to reach Chirk, near Wrexham, before noon for his weekly visit to see his mother. But he gave up, getting only as far as Shrewsbury just after 13:00 GMT.
He said passengers had to leave the train at Llanwrtyd before continuing their journey by bus but the vehicle was delayed for more than an hour near Knighton, Powys, as the driver needed to take a break and no relief driver was found.
Mr Owen claimed the driver left the bus with passengers "locked" inside without access to a toilet until he eventually returned and resumed the journey to Shrewsbury, before twice having to find alternate routes when faced with low bridges.
He said he decided to give up on continuing his journey further but he became stuck again when the return train from Shrewsbury was halted at Llwrtyd.
Speaking from the train, he said a replacement bus was due after 18:00 GMT to get him back to his car at Llandeilo so he could return home to Upper Tumble, near Llanelli, and from where his journey began before 07:00.
"It has been a very difficult day," he said.
A TfW spokesman said he was "sorry to hear of the problems encountered".
"Clearly this was a very difficult experience and we would like to apologise for the problems caused," he said.
The adverts were signed by TfW chief operating officer Rick Davey and Network Rail chief operating officer Alison Thompson.
It said: "We're sorry that over recent weeks too many trains have been cancelled, delayed, or have arrived with fewer carriages than normal.
"We know that overcrowding and uncertainty are big challenges for people, and we want to apologise that you have haven't received the service you deserve and expect."
The apology comes just weeks after TfW took over the running of the Wales and Border franchise from Arriva Trains Wales.
TfW commercial manager Colin Lea told Good Morning Wales he did not want to "point the finger at Arriva" but admitted the firm had inherited a "very old fleet".
"We knew the autumn would be difficult, especially with an old fleet, but we didn't expect it to be this bad," he added.
Officials said the problems were caused by old trains and bad weather - a number were damaged during Storm Callum.
Passengers were evacuated from one train which was stranded by flooding on the line at Penrhiwceiber, near Mountain Ash, in October.
Cynon Valley MP Ann Clwyd, whose constituency covers Mountain Ash, said: "This has not been a good start for Transport for Wales' tenure.
"I understand that they are having to revamp the services, but it is having terrible consequences for many of my constituents.
"People will want assurances that the improvements being made by Transport for Wales will happen sooner rather than later."
Related Internet Links
The BBC is not responsible for the content of external sites.