A5 Druid junction traffic lights 'risk fatal crash'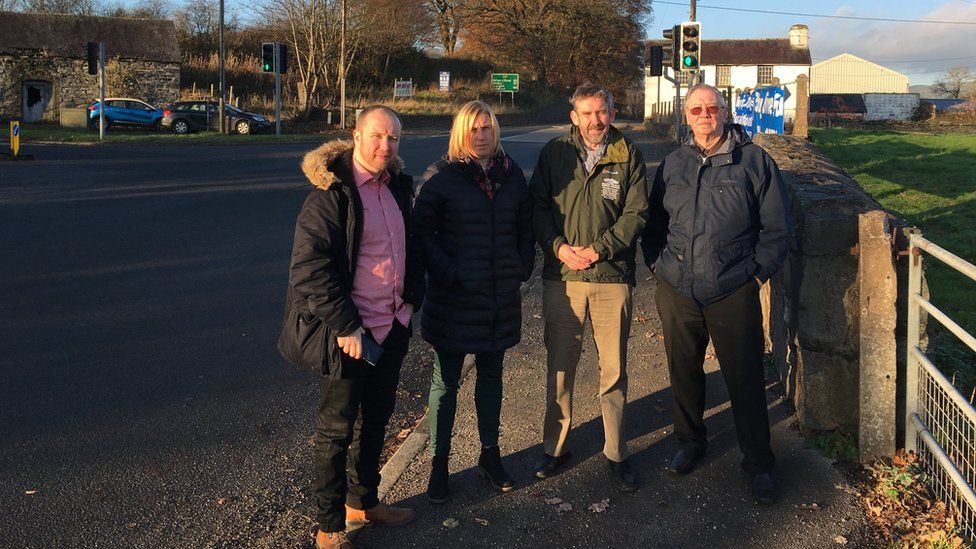 A woman involved in a car crash with her family has said a notorious north Wales junction needs improving before there is a fatal accident there.
Sian Roberts said drivers turning right off the A5 at Druid, Denbighshire, on to the A494 to Bala faced oncoming traffic with lights green both ways.
Local councillor Mabon ap Gwynfor said it would be safer to have a roundabout.
The Welsh Government said the junction was being monitored as part of a review of speed limits in the area.
Ms Roberts, from Llandderfel, told the Local Democracy Reporting Service her car was a write-off after the crash in October, but she escaped with minor injuries along with her husband and nine-year-old daughter.
"My husband had a few scratches because of the air bags, I bit my tongue and banged my head, and my daughter had the safety belt locked on her neck," she said.
"We were lucky, but next time it could be a fatality because the traffic lights are not working - people just do not know who has the right of way."
Tristan Dodd, who owns a garage nearby, said there were crashes there "every few weeks".
"It's like Groundhog Day - people come from the Cerrig way and turn right across the traffic," he said.
"People are getting hurt already and one of these days someone is going to get killed."
Councillor ap Gwynfor, who represents Llandrillo on Denbighshire council, said: "We're fortunate that we've not seen any fatalities caused by these lights yet, but we're concerned that it's only a matter of time."
A Welsh Government spokesman said road safety was "absolutely paramount".
"We are currently carrying out an all-Wales Speed Limit Review which assesses safety concerns on the trunk road network over a three-year period and this section of the A5 at Druid is part of the review," he said.
"We will continue to monitor this location and any identified safety issues will be addressed."
Related Internet Links
The BBC is not responsible for the content of external sites.