'Tragic' Neath baby died in bed with mother, inquest hears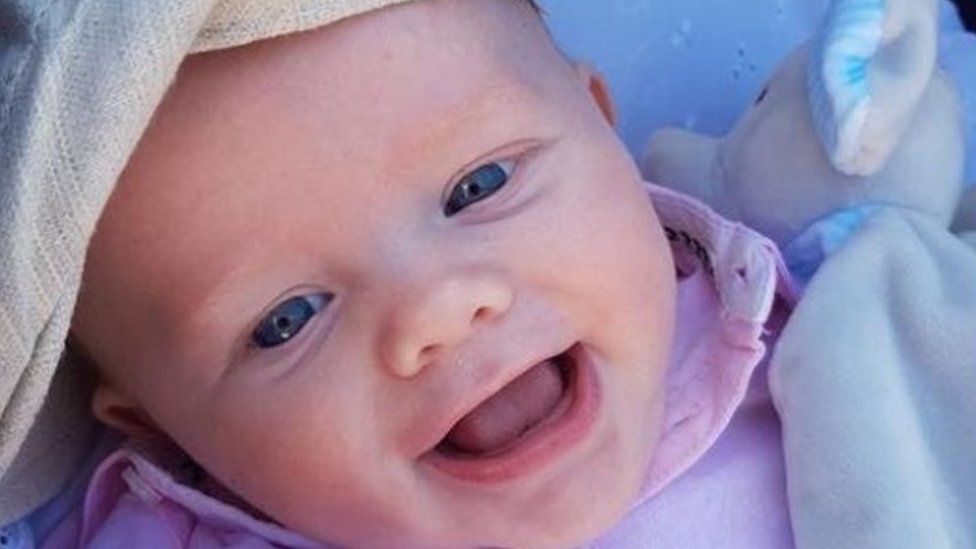 A baby died after his mother put him in bed with her for a "cwtch" but fell asleep, an inquest heard.
Five-month-old Caleb Price Sillitoe was found unresponsive under a blanket with mum Paula Sillitoe and sister Ebony, six, on the morning on 22 May.
An inquest in Swansea heard Caleb's death at his Neath home was "a tragic set of circumstances".
The cause of death was undetermined and the coroner concluded it was a "case of sudden unexpected death in infancy".
"This is a very painful set of circumstances and he'll be sadly missed," coroner Colin Phillips added.
Caleb was laid down in the middle of the bed at about 21:30 BST, "so his mother could have a cwtch (cuddle)" with him before putting him in his cot.
Det Sgt Nigel Morgan said Ms Sillitoe found him at about 05:00 "cold and unresponsive".
The inquest heard she had drunk six cans of lager and was "tipsy but not drunk".
Blood samples taken from her nine hours later showed no sign of alcohol or drugs, with a police investigation finding no evidence of neglect or criminality.
"It was just a tragic set of circumstances," Det Sgt Morgan added.
This view was echoed by pathologist Dr Andrew Bamber, who found no signs of neglect, injuries or suffocation.
He listed a number of risk factors, including that Caleb had been left to sleep with his mother and his sister, his mum had been drinking and the fact he was born five weeks premature.
"On that night there were probably thousands of babies in Wales who went to sleep under the same circumstances and nothing happened," he added.
"The factors meant a slightly increased risk but it could be said this was just bad luck."
Dr Bamber said his post-mortem examination found the cause of death was unascertained.
In his narrative conclusion, Mr Phillips found Caleb died while co-sleeping in a bed with his mother and sister which was unusual because he normally slept in his own cot.
He said the cause of death could not be determined and concluded it was a case of sudden unexpected death in infancy.
Speaking after the inquest, father Paul Price, who is separated from Caleb's mother, said his son was a "precious little boy".
"We watched him grow to be a marvellous child," he said.
"We could never have asked for anything better.
"Hopefully another parent won't have to go through what we had to go through.
"There's thousands of people still sleeping in bed with their children, we just hope someone takes this as a sign of those risks.
"It's devastated the pair of us. She's a loving mother - I used to call her the robot - she's fantastic it's just unfortunate this happened."
Related Internet Links
The BBC is not responsible for the content of external sites.