Ceredigion mother's grief 15 years on from son's fatal crash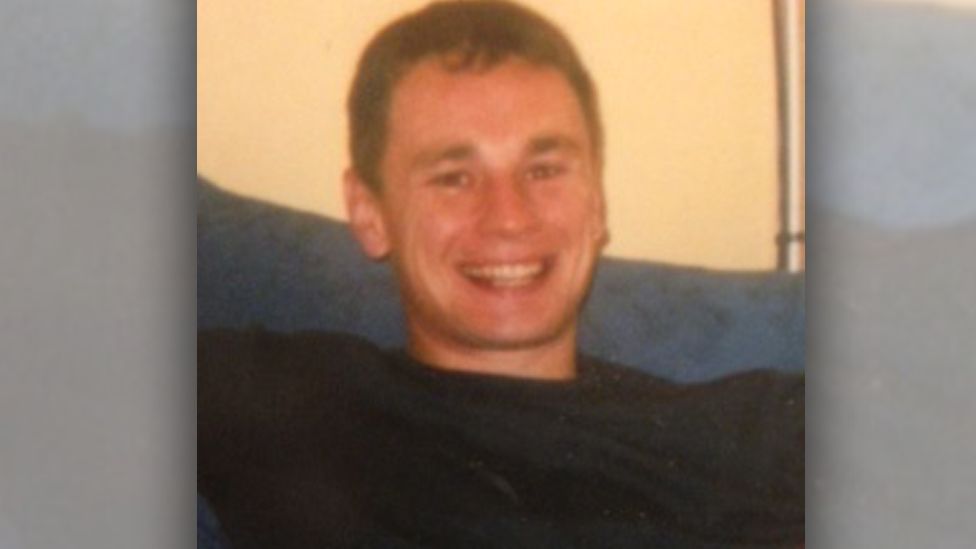 A mother has told how her son's motorcycle crash brought her to "the edge of despair".
Jasmine Wilson, from Ceredigion, lost her 31-year-old son Aled in the crash 15 years ago and is urging people to be careful on the road.
The anniversary of his death coincides with National Road Safety Week, coordinated by Brake.
The charity found bike riders accounted for 34% of all deaths and serious injuries on Wales' roads in 2017.
This was a total of 364 cyclists and motorcyclists.
For Mrs Wilson and her family, the week is a difficult one.
Aled was a father of two children, aged five and 18 months, when he died in the crash on 22 November 2003.
According to Brake, a 69-year-old driver who was not wearing the glasses he had been prescribed had not seen Aled when he crashed into him in Milton Keynes.
Mrs Wilson, from Pontrhydfendigaid, said Aled had been a driver in the Army at the time of his death, and was a qualified motorbike instructor.
"I'm calm now but there are times when I will break down," she said.
"I had to make a decision at the time because he had a young family, I just felt that I couldn't afford to break down.
"The children were small and his partner was devastated. I had to do everything I could to honour his memory.
"He knew me as a strong woman but this brought me to the edge of despair."
Mrs Wilson added: "I can sincerely say I would give my life for my children and grandchildren. But it wasn't an option. I just had to hold on as tight as I could to what I had.
"I can have a laugh and a joke, but it's such a lot of hard work. Grief is a lot of hard work and then we have the added grief that my grandchildren won't grow up with their father, who adored them.
"I think about him every day and there are times when it hits you that he's not here. That's when it's the hardest."
Joshua Harris, from Brake, said: "Raising awareness about the safety of those on two wheels, who face much higher risk of death and serious injury than those in cars, is absolutely vital."
Related Internet Links
The BBC is not responsible for the content of external sites.