Swansea Christmas parade branded a 'shambles'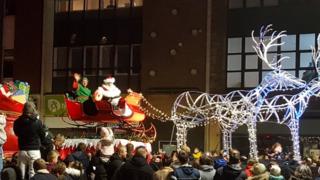 A Christmas parade has been branded a "shambles" after parents said it had just three floats and was "all over in five minutes".
Swansea's annual festive event promised "dynamic dance-troupes" as well as "spectacular shows and stages".
But roadworks in the city centre saw the parade scaled down, leading to a barrage of criticism on social media.
Apologising in a Facebook post, Swansea Council leader Rob Stewart said that Sunday's parade was not "good enough".
Mother-of-two Lucy Phillips, from Swansea, said they arrived at 16:00 GMT and "stood around for an hour expecting something magical" but said the parade "was all over in five minutes".
"It was a total shambles. My daughter looked at me and said 'Is that it Mammy?'."
Other parents voiced their anger online, saying the event was "a load of rubbish" and claiming there was nothing for young children apart from "a loud music float with Santa on".
The annual lights switch-on usually features carnival floats as well as a procession of performers and characters in fancy dress - with last year's parade drawing a crowd of 30,000.
However, this year's route had to be altered because of major roadworks and building work in Swansea - meaning there were fewer floats and performers.
John Williams, who took his grandsons to the parade, said: "It was rubbish. Nothing like last year. If you blinked you would have missed it."
In a Facebook post, council leader Mr Stewart said this year's event was "always going to be more challenging", but admitted the main event was not "good enough".
He added: "I have been clear since the disappointment of two years ago that we would deliver a traditional Christmas event with Disney style elements.
"Last year the parade was well received and I expected that we would deliver the same experience this year. It hasn't happened."
Swansea Council has been contacted for comment.
You may also like: