Flybe loss 'would be catastrophic' for Cardiff Airport
By Chris Wood
BBC News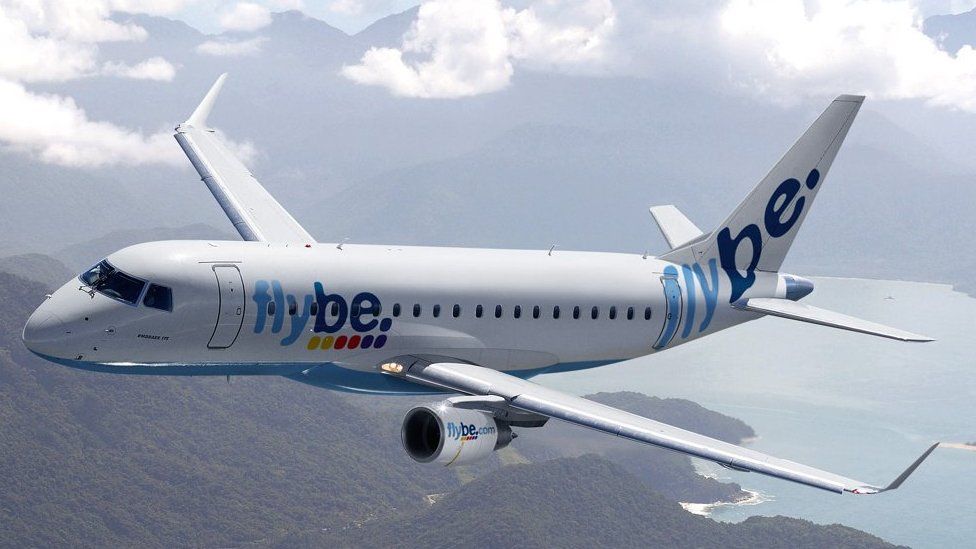 Losing Flybe from Cardiff Airport would be "catastrophic" and ministers are being urged to protect key routes.
The airport's former head of marketing Peter Phillips said the airline's 14 destinations were "crucial" to passenger growth.
First Minister Carwyn Jones said there was no reason a sale would not happen.
Flybe previously said there was no threat to tickets and flights that had already been purchased.
Mr Phillips described the airline as the airport's "biggest operator and vital to the Welsh economy" and its loss would "set Welsh travel back for years".
"People talk about Qatar Airways in terms of lifting passenger numbers," said the former advisor to the European Regions Airline Association.
"But Flybe goes to European capitals. Its loss would be catastrophic and it could turn around the culture of growth, putting up to 100 related jobs at risk."
The airline flies to cities including Paris, Berlin, Rome, Munich, Milan, Geneva and Dublin from Cardiff.
However, the Exeter-based firm confirmed it was "in discussions with a number of strategic operators about a potential sale of the company".
Flybe warned full-year losses would be £22m, blaming falling consumer demand, a weaker pound and higher fuel costs.
"It is my firm conviction that the Welsh Government should offer some help," Mr Phillips added.
"Not buying the airline but, through Flybe's current management, offering guarantee sweeteners to ensure that any new owner ring-fences Cardiff Airport operations."
He said income from these flights would outweigh any cost to the taxpayer.
Otherwise, Mr Phillips believes Cardiff Airport would be "very vulnerable" if a new owner cut costs and "stripped it back to its basics".
He pointed to the expensive Embraer aircraft based at Cardiff, which could be sent back to its leasing company, meaning "goodbye" to many European links.
Travel expert Simon Calder said owners of all airports Flybe use would try to protect their operations but Cardiff was "very exposed" to the effects of its potential failure.
He said the airline was losing about £7,000 an hour, adding: "It's fairly unsustainable, but at least they are engaged, trying to sort it out.
"Something will come out of this (a new operation) that will look very similar to what we have now."
He predicted domestic flights - such as Cardiff to Edinburgh - would be preserved as they save an eight hour-plus land journey.
But he said "fairly random flights" to places such as Milan and Munich - could be under threat.
"Cardiff Airport works with a number of airlines to offer customers a wealth of destinations that are conveniently timed and competitively priced," said an airport spokeswoman.
"We will continue to work closely with Flybe, with all flights to and from Cardiff Airport operating as normal."
The first minister said the Cardiff part of Flybe's business had been "very successful".
Mr Jones added: "While there is a period of uncertainty, having spoken to the airport, they are not alarmed by it.
"There's no reason to suspect Flybe won't have a buyer."
Related Internet Links
The BBC is not responsible for the content of external sites.