Retail violence: Better protection call for shop workers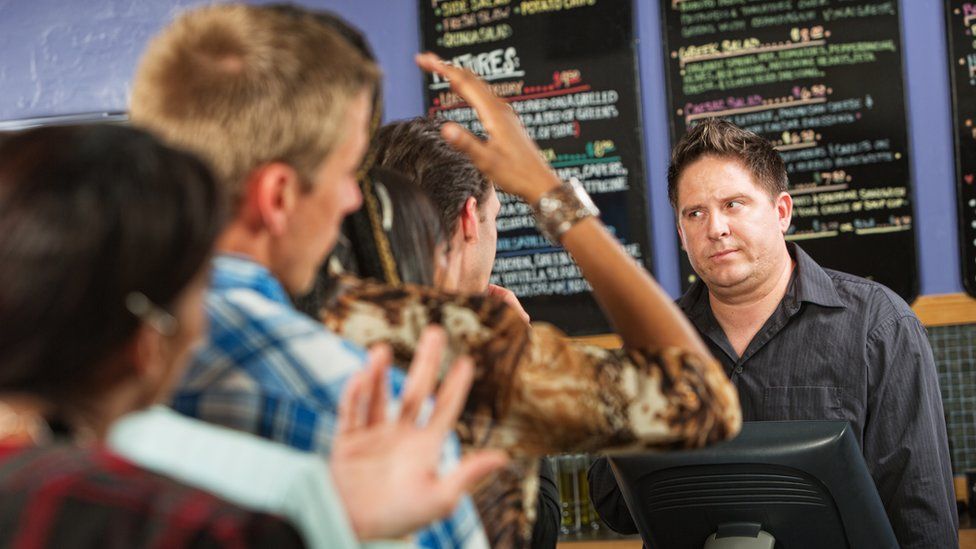 More needs to be done to protect shop workers from violence and abuse following an increase in crimes, retailers and a union have said.
Challenging thieves and enforcing age restricted sales are the main triggers for abuse, said the Association of Convenience Stores (ACS).
One shop worker from Cardiff said he had witnessed gangs pulling knives.
Union Usdaw said it estimated there were about 230 staff assaulted daily.
The Home Office said it was working with the sector to tackle the problems.
Graham Perkins, from Cardiff, who has worked in retail for 25 years, said he was issued with a panic button in one former job.
"We have had gangs of kids hanging around outside the shops, intimidating customers and staff," he told BBC Radio Wales' Good Morning Wales.
"Sometimes they pull knives - sometimes they're just very nasty.
"But, if I am honest with you, the worst thing is... the constant every day rudeness [with] people treating shop workers like they are less than everybody else."
John Stokes, chairman of the charity National Campaign for Courtesy, said store policies saying the "customer is always right" had created a sense of "entitlement" among some shoppers.
He said customers should not "forget their manners" and take their "bad moods" out on shop workers, let alone get abusive and violent.
"We believe everyone is equal," he said.
The ACS report said there had been an estimated 13,400 violent incidents in 2018, up from 9,400 last year in a survey of 7,000 retailers, with staff threatened with weapons such as knives, axes, hammers and screwdrivers.
General secretary Paddy Lillis said: "Life on the frontline of retail can be pretty tough for many shop workers and there is still a lot to do to help protect them."
ACS chief executive James Lowman said the criminal justice system should "send a clear message that violence and verbal abuse is not acceptable", especially as staff have to apply the law to allow people to buy age restricted goods such bladed items.
A Home Office spokesman said it was co-chairing the National Retail Crime Steering Group with the BRC to "ensure there is an effective response to crimes committed against retailers, including violence and abuse against retail staff".
Related Internet Links
The BBC is not responsible for the content of external sites.