GCSE 'lottery' blamed for low marks in north Wales
By Dafydd Evans
BBC News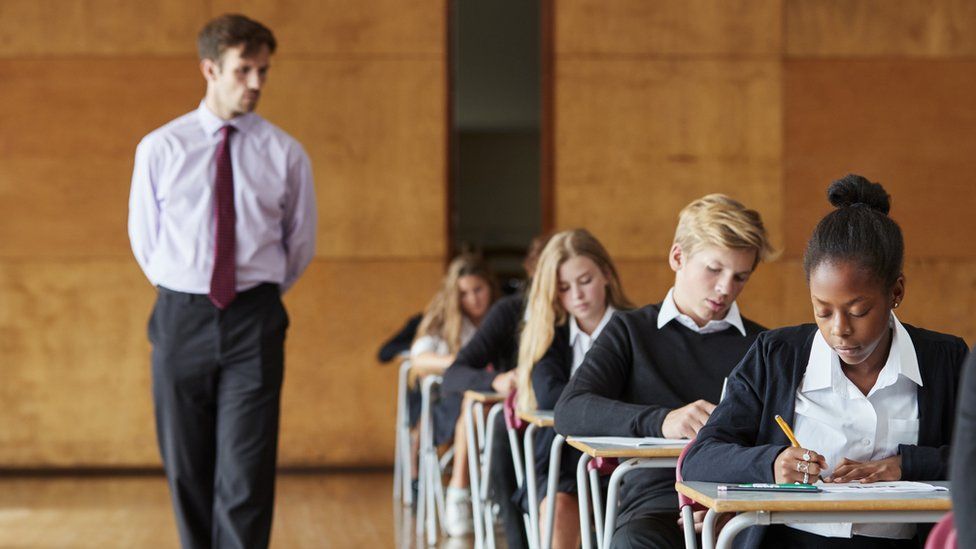 Education leaders in north Wales have "lost confidence" in a Welsh exam board and the qualifications regulator.
GwE consortium claimed changes to the grade threshold for English GCSE over the past year had created a "lottery", which led to 700 pupils missing out on a grade C pass.
The Welsh Joint Education Committee (WJEC) exam board said they were confident in their awarding processes.
The regulator Qualifications Wales said WJEC had set the thresholds correctly.
GWE, the school improvement consortium for north Wales which represents head teachers, parents and councillors across the region, are calling on the Welsh Government to conduct a "root and branch" review.
Between summer 2017 and summer 2018, the score students needed to get a grade C in English GCSE was changed twice by WJEC.
GwE claimed there was a significant change in the grade threshold, which meant students who took the exam early were treated differently to pupils in the same academic year who sat a different paper some months later.
They said 700 students across north Wales who got a D this summer could have got a C under the old criteria.
Councillor Gareth Thomas, chairman of GwE, said it was "no exaggeration" to say teachers had lost confidence in Qualifications Wales and the Welsh Joint Education Committee.
"Grades allocated to students over the past two years [had] more in common with the workings of a lottery than an examination board," he said.
"As a result, we are calling on the education secretary to investigate what has gone wrong and to ensure that Qualifications Wales as the regulator and WJEC as the examination board enter into meaningful discussions with key stakeholders as a first step towards restoring trust, confidence and transparency in the system."
Neil Foley, head teacher of Prestatyn High School in Denbighshire, said some pupils had been unfairly marked down.
"Twenty six of our learners who should normally have achieved the C grade at GCSE failed to do so because of a 10% shift in the grade boundary, which we think is a great injustice."
Qualifications Wales said it had investigated the concerns when they were raised in September and had published a detailed report.
"After a thorough analysis of all the available evidence, we concluded that the grade boundaries were set correctly by WJEC and the national standard for GCSE English Language was consistent with last year," a spokesman said.
"We have had, and continue to have, ongoing dialogue with those who raised concerns."
WJEC chief executive Roderic Gillespie said their primary aim was to ensure that candidates received the grades they deserved.
"As identified in the September 2018 report by Qualifications Wales, there was no evidence to support the claims that inconsistent standards were being applied across different examinations series," he added.
The Welsh Government has been asked to respond.