Rented homes: Almost half of landlords ban cats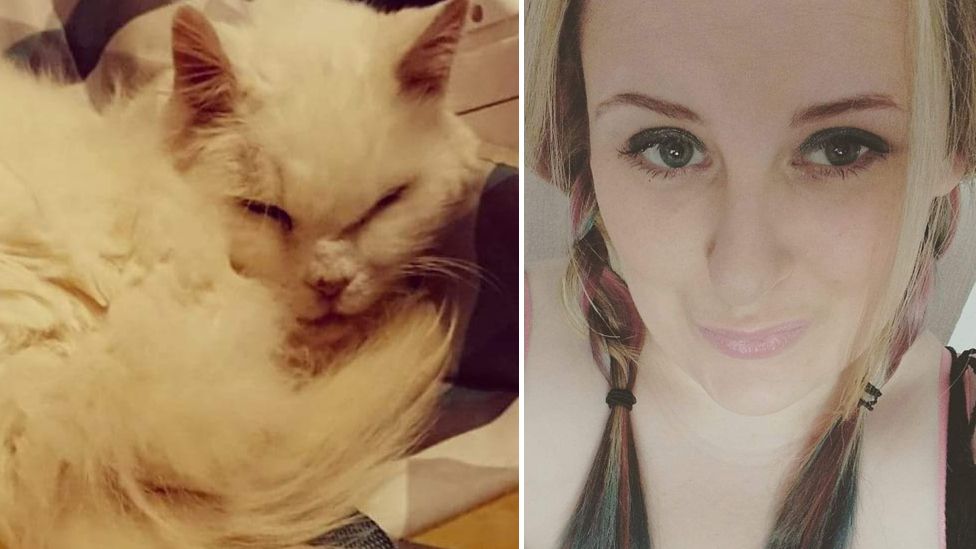 Animal loving Cassandra Davies was given 24 hours to get rid of her cat or face eviction.
The 29-year-old from Port Talbot has spoken of her despair as the charity Cats Protection said less than half of landlords want them in their houses.
It is one of the top five reasons cats are handed in to its shelter and it wants to help more renters with pets.
But Residential Landlords Association Wales said pets could affect the future rentability of a house.
Ms Davies was told she would have to leave within a day if she did not get rid of her animal, named Fuzzypants. She also had to send her dogs to be looked after by relatives.
She said: "He [the landlord] said, 'You have 24 hours and I am going to issue you with a warning that you need to leave'. That is when I put a message on Facebook."
Anna's Rescue Centre, in Cardiff, replied to say they could help.
Ms Davies said Fuzzypants got "really upset" when she dropped him off "and was hissing and not acting like I was used to".
"It really upset me because they gave me an ultimatum," she added.
Cats Protection has now launched a campaign called "Purrfect Landlords".
"Issues to do with finding cat-friendly housing have been one of the top five reasons recorded by Cats Protection for cats being handed into the charity over the past 12 months," a spokesman said.
"New research now shows less than half (42%) of private rented housing allow cats.
"Often, the reason for not allowing cats is simply habit, with a third of landlords who don't accept cats saying they didn't proactively choose to ban cats, but instead followed a standard template or advice from a letting agent."
Private tenants who are able to own cats "benefit immensely".
"Of those that own a cat, 94% report that their cat has a positive effect on their life," the spokesman added.
Tony Parker, of Cwmbran's All Creatures Great and Small, said they are called "every day" by someone who has to give up their pet because of their housing situation.
Karen Carter, of St Athan, Vale of Glamorgan, had to pay extra on her bond to keep a cat.
"He asked for a £100 bond for each cat but other than that there were no requirements," she said.
Adrian Smith is a lettings director at Peter Alan, in Newport.
He said: "The sort of case that causes concern is like where something happened before where a pet is left in a property. A pet might have fouled a property or a pet might be flea ridden.
"Fleas are the one that cause the most concern in a property."
Douglas Haig, vice chairman, of RLA Wales, said: "We, of course, understand the benefits that pets can bring, such as helping those with mental health conditions.
"However, our further concern is not only that of property damage but of future rentability.
"Many people are allergic to pet hairs and those who particularly have asthma ask if pets have been kept at the dwelling in the past.
"The guarantee of ensuring that there aren't any remaining pet hairs is to professionally clean the property and we support our members asking for this to be covered by the tenant wishing to keep a tenant at the property when furnished."