Port Talbot school bus windows smashed by bricks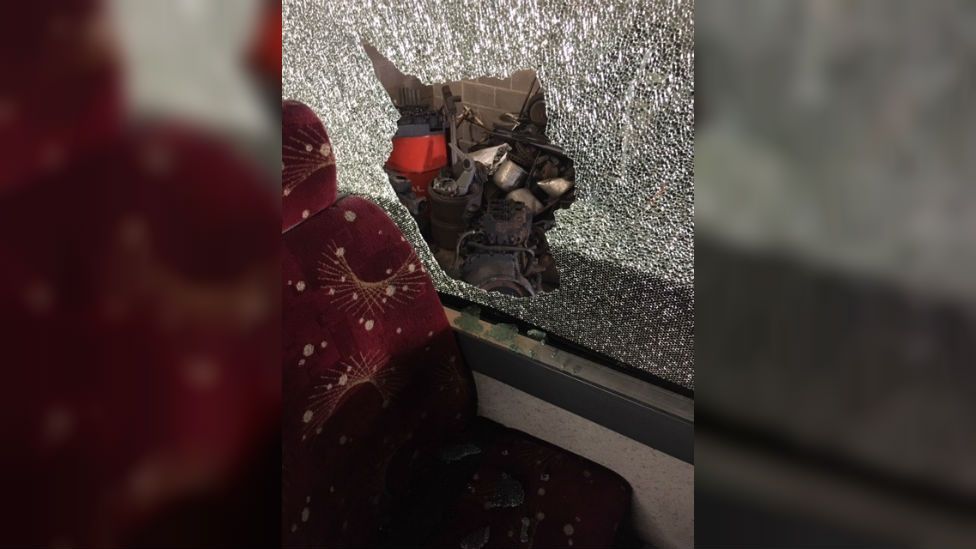 A school bus with students on board has been targeted by vandals in Port Talbot, leaving children "shaken".
Students from Ysgol Cwm Brombil were travelling home on a Ridgways Coaches-owned bus when bricks were thrown while it was stopped at traffic lights.
No-one on board was injured, but two of the bus windows were smashed at about 15:30 GMT on Abbey Road, Taibach.
South Wales Police has said it is investigating. Three people wearing hooded tops are thought to be involved.
Karen Ganz, of Ridgways Coaches, said: "It's bad enough throwing bricks at an empty bus, but there were about two dozen children on board.
"The driver didn't really see what happened but the children were shouting and were obviously shaken by it. The driver just wanted to get them home safely."
Ms Ganz estimates the damage from the attack on 9 November will cost £300.
"It's not a lot, really, but we shouldn't have to pay it in the first place," she said.
Sgt Daren Pike added: "This was a mindless act of vandalism, which could have had far more serious consequences.
"Thankfully, no-one was injured on this occasion, but I would appeal to the public to assist us in finding those responsible before their actions do lead to someone being hurt.
"Anyone who has any information or footage which they believe might be relevant, is asked to get in touch."