Christmas dinner back on menu in Powys after outcry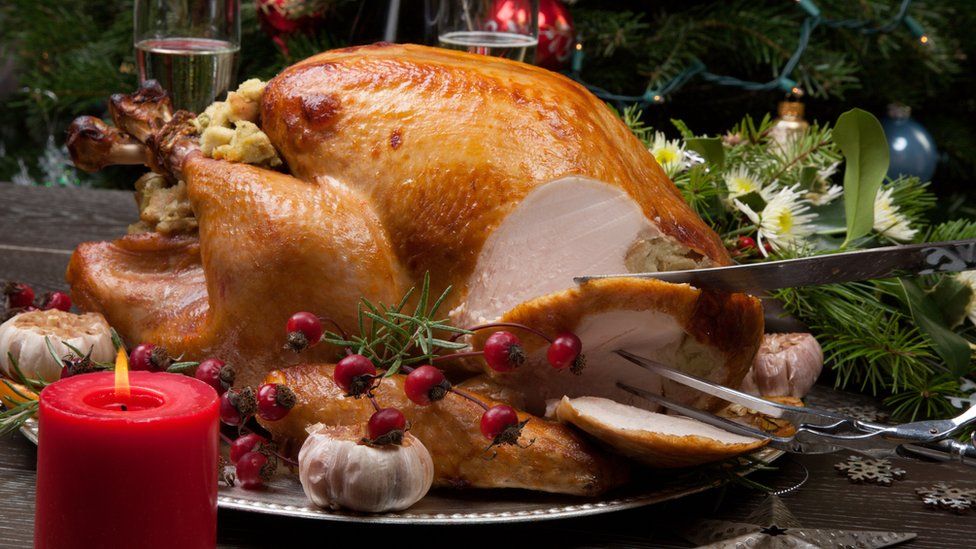 Turkey with all the trimmings is back on school children's Christmas menu after "scrooge" council officials performed a u-turn.
Traditional Christmas dinner for kids in Powys was set to be binned this year in favour of pizza and sandwiches as part of a cost-cutting plan.
One parent accused officials of having "no Christmas spirit".
But cabinet member Phyl Davies said parents will now be asked to contribute so the dinners can go ahead.
The council usually pays the difference between the £2.30 cost of school dinners and the £3 Christmas dinner, and had been asked by head teachers to do so again.
But it refused and suggested the alternative menu, which has now been scrapped.
Father-of-three Aled Griffiths was among those who objected, saying the original plan showed "a complete lack of common sense and no festive spirit".
Councillor Joy Jones, the authority's anti-poverty champion, welcomed the council's change of heart after nearly 6,000 people signed a petition.
"It quickly became apparent that parents wanted a traditional Christmas dinner for their children.
"So within an hour I set up a petition for the parents to fill in.
"To my amazement it started to fly around social media and within hours thousands of people had signed."
She added: "For some children it may be the only traditional Christmas dinner they get as some parents are facing problems financially and can't afford to a have big traditional dinner this year."
Phyl Davies, Powys cabinet member responsible for school catering, said: "The public reaction over the last few days has shown how much support there is for a traditional Christmas dinner, which has always been popular in the past.
"We will provide a Christmas dinner for primary school pupils this year but with a small increase [in the charge] to cover the additional costs."
Montgomeryshire's Conservative assembly member Russell George had also been critical of the council's original plan, but welcomed its change of heart.
"Just like Ebenezer Scrooge, the county council has come through in the end," he said.