BBC Radio Wales looks to 'best mix' as habits change
By Huw Thomas
BBC Wales arts and media correspondent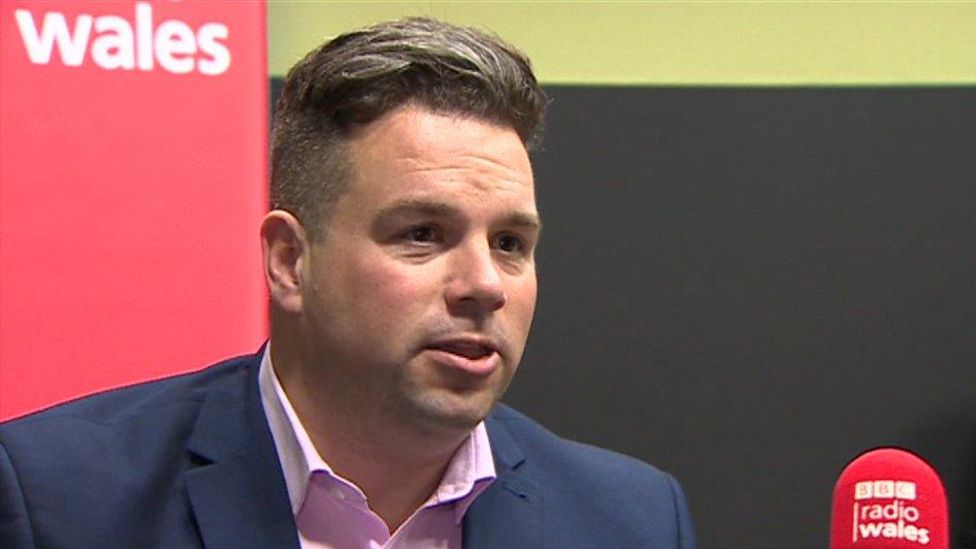 BBC Radio Wales must meet the challenge of changing listening habits, its editor has said.
Colin Paterson was speaking as the station celebrated 40 years on air.
It launched in 1978, occupying a wavelength previously used by BBC Radio 4.
"Radio Wales broadcasts a complex mix of content, and radio stations now tend to be looking more to narrow-casting and how they can focus their content.
"That is a challenge for us, because we want to be popular and accessible. But we also want to be serving audiences in Wales with a mix of content that reflects our public service remit," he said.
Mr Paterson said BBC Wales had conducted large-scale research "to try and understand exactly what is the best mix for the station" and that he intended to "bring new names and try new things" in future.
Radio has remained relatively resilient compared to the fragmentation of audiences seen in print and TV.
But the surge in popularity of audio streaming services and podcasts has presented a new challenge for traditional stations.
The BBC recently launched a new app, BBC Sounds, which provides a single destination for its radio stations, podcasts and other audio.
"We have just got to make sure that we are part of that mix," Mr Paterson said.
"There are a number of different fronts you have got to look at. There is the radio station, but then there are digital platforms, and I am committed to listening to audiences and also acting on it to make sure wherever they are getting their audio from, Radio Wales and BBC Wales is part of that mix."
BBC Radio Wales through the years
The station was launched on 13 November 1978 - taking over the medium wave slot from Radio 4's Wales Service, the old Home Service.
As well as news, that first morning also featured an item on a singing parrot.
As a mix of setting the agenda and light entertainment, the tone was set.
BBC Radio Wales is celebrating its 40th birthday by taking its presenters around the country on a specially painted bus.
It will also stage a concert in Swansea hosted by Owen Money, whose Saturday morning show is the station's most popular programme.
Despite the changing habits of listeners, Mr Paterson said he remained optimistic about the future.
"It is a changing time for media organisations, but I also think it is a really exciting time.
"We have just got to be clear about where is Radio Wales in that market and what do we need to do for our audiences."