£24m fund for flexible teacher learning in Wales
By Bethan Lewis
BBC Wales education correspondent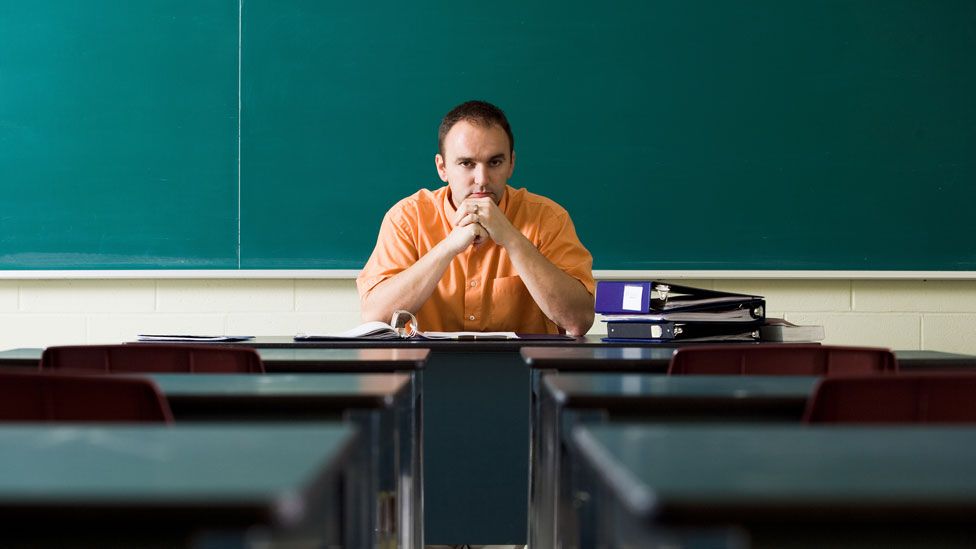 A £24m fund has been announced to make sure teachers are prepared for the roll-out of a new curriculum in Wales.
The Welsh Government says the package will include more flexible ways of training which will mean less disruption to the school day.
It said it would also help teachers support pupils' mental health and well-being.
The money has been welcomed by teaching unions but the NASUWT said it should be "a long-term investment".
The new package for teachers' professional learning has been allocated £9m in this financial year and £15m in 2019-20.
The government said it would give teachers more flexibility about how and when they learn and would include "learning outside the classroom, online learning, classroom learning and coaching".
The aim is to give schools time and resources to plan for what is set to be the biggest change in the classroom for decades.
An initial version of the new national curriculum will be published in the spring of 2019 before it is rolled out in schools from 2022.
It will introduce six broad areas of learning and is meant to develop the broader skills young people will need in life.
Education Secretary Kirsty Williams said the National Approach to Professional Learning is part of a "wholesale reform of how teachers learn".
"This is a time of great change in our education system and it will be impossible to deliver our new curriculum without a high-quality education workforce," she said.
"That is why we are making it easier for teachers to learn and explore the curriculum, giving them the time they need and not compromising their day to day work or pupils' learning."
Dilwyn Roberts-Young, general secretary of the Ucac teaching union, called the scale of changes to education "mind-boggling".
Welcoming the investment, he said high quality training was needed while "guarding, on the one hand, against disruption to pupils' education, and on the other against unreasonable demands on the workforce".
The NASUWT union also welcomed the money but said it was concerned about whether it would be sufficient to meet the training needs of the whole profession.
"Any money that comes in for professional development is welcome," the union's Wales organiser Neil Butler said.
But he said "there are questions about whether it will be sustained" or "a short-term shot in the arm".
The investment will be allocated according to numbers of teaching staff in schools.