Restored Dylan Thomas memorial unveiled in Swansea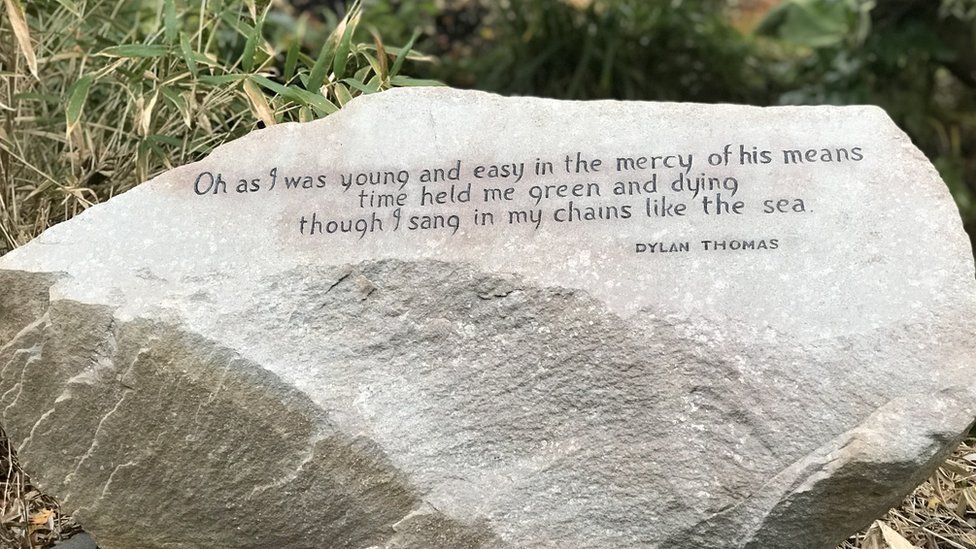 A newly-restored memorial stone dedicated to poet Dylan Thomas has been unveiled on the 65th anniversary of his death.
The stone, which was originally laid on 9 November 1963, sits in Cwmdonkin Park in Swansea - close to where Thomas grew up in Uplands.
Although a pilgrimage site to fans, the stone became damaged due to moss and erosion which obscured the inscription.
About 30 people gathered in the park for the unveiling.
Among those attending was Glenys Cour, the wife of late sculptor Ronald Cour, who went to school with Thomas and cut and inscribed the original stone in 1963 to mark 10 years since the poet died of pneumonia.
"With his worldwide fame, that his birthplace should allow this to happen, it's quite incredible," Ms Cour said.
"The wonderful people who've undertaken this, I'm so so grateful."
The restoration work was paid for by the Dylan Thomas Society and the Heritage Lottery, along with volunteer support from the Dylan Thomas Birth Place and the Friends of Cwmdonkin Park.
Society volunteer Geoff Haden said much of Dylan Thomas's inspiration as a writer came from the park.
"If you look back at his poetry, an awful lot has the influence of the park about it," he said.
"This is all part of bringing Dylan back to the Uplands where Dylan was born, where he worked for 23 years, where we wrote two thirds of his published work. This park was his world within a world."
Writer Alun Gibbard said the demise of the stone had been a "case of neglect", but it had been "put right now".