Armistice Day: 'Remarkable' Victoria Cross hero honoured
By Sian Lloyd
Wales Correspondent, BBC News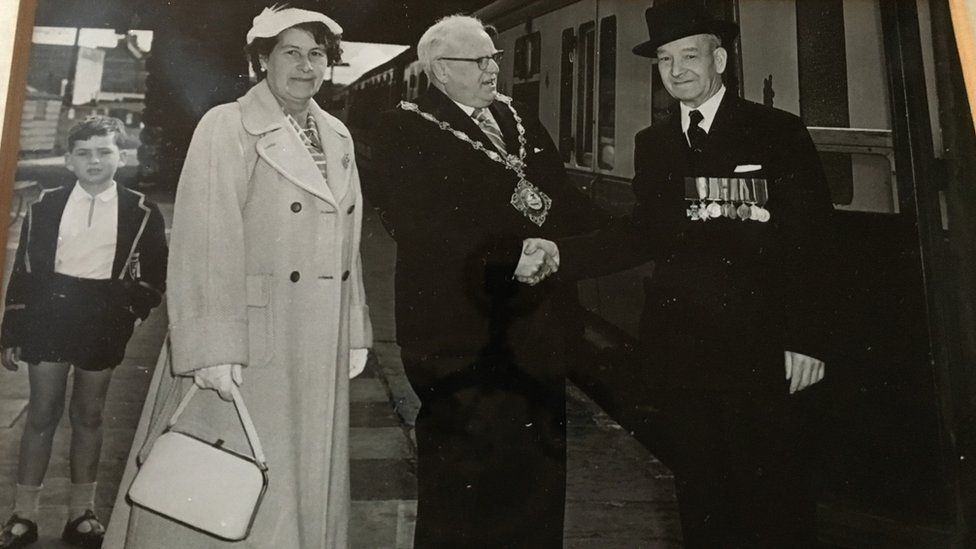 A Welsh soldier awarded the Victoria Cross for his "remarkable" bravery during the last 100 days of World War One is being remembered.
When, under heavy German fire on the battlefields of the Somme in August 1918, Royal Welch Fusilier Henry "Harry" Weale's gun failed him, he rushed the nearest post and killed the crew.
A member of the 38th Welsh Division, Harry, who was injured five times during the four years of war, went on to deal with three German machine gun positions.
His actions inspired his company to advance and capture some 50 German prisoners of war and further machine guns.
Mr Weale had returned to family life in Rhyl, Denbighshire, in 1918 and was awarded his VC at Buckingham Palace by King George V on St David's Day 1919.
Over the past four years, the heroic actions of the 627 Victoria Cross winners of World War One have been remembered as part of a special centenary project.
Stonemasons in Yorkshire have carved their names on to commemorative paving stones and placed them in the soldiers' hometowns.
A former steelworker from Shotton in Flintshire, Mr Weale's stone is one of the last to be unveiled in his hometown on Armistice Day.
He is remembered by his granddaughter Jackie Ward as a "quiet, unassuming, sensitive man who never spoke about his active service".
Shrapnel stuck in his neck and head
Col Nick Lock, the deputy commander of the Army in Wales, described his feat as "pretty remarkable action for a Lance Corporal who had been wounded during the engagement yet carried on and pressed home, inspiring the rest of the battalion".
Mr Weale suffered from the effects of his injuries throughout his life - Ms Ward recalled her grandfather's headaches as a result of the shrapnel stuck in his neck and head.
The Armistice 100 years on
Long read: The forgotten female soldier on the forgotten frontline
Video: War footage brought alive in colour
Interactive: What would you have done between 1914 and 1918?
But he was a very sociable man who loved having the company of family and friends, according to Ms Ward.
At her home in Rhyl, she keeps an archive of his achievements together with treasured family photographs.
"A small, wiry man who never went out without dressing in a suit and tie, who loved to pick a carnation from the garden to place in his buttonhole," she added.