Virtual reality helps bridge generation gap in Tredegar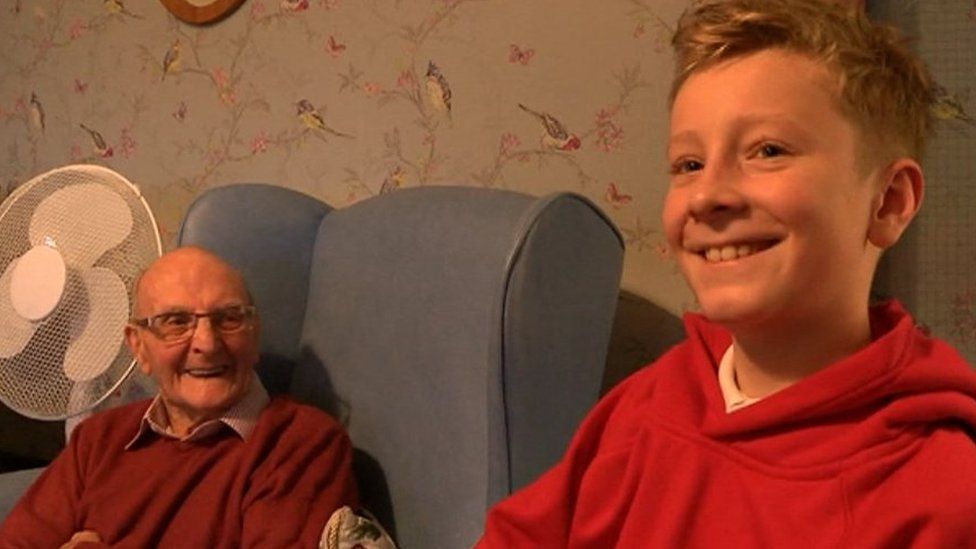 Virtual reality has helped bridge the generation gap between a tech-savvy schoolboy and a care home resident.
Children from Georgetown Primary have helped teach residents at Woffington House Care Home how to use technology.
Thomas Brown, 91, and Daniel, 10, have become "good friends" under the Digital Heroes scheme to improve online access among dementia patients in Tredegar.
However, people most in need of health services could still be left behind by digital advances, a new report says.
It warned that one in four people with long-term illness, disability or infirmity in Wales were not online - compared to just 10% of those without any of those conditions.
It was published on the same day the Welsh Government announced a £3m investment to tackle digital exclusion within health and care.
Health Secretary Vaughan Gething said: "Giving people the skills to access the right information and services has been shown to enable them to better manage conditions and reduce the burden on NHS services."
One initiative is the Digital Heroes project run by Digital Communities Wales.
Digital hero Daniel said: "Tom used to be a gardener so I show him stuff online about plants and flowers and he tells me funny stories about when he was a boy. We're good friends."
Care home resident Ken, who has no family or visitors, has been able to "revisit" his hometown of Aberystwyth in 1965 as well as experience rollercoaster rides using tablets and virtual reality glasses.
However, Karen Lewis of the Wales Co-operative Centre said tackling Wales' "digital divide" in health required "urgent attention".
She added: "Many citizens with the greatest need for health and care provision are also those with the lowest level of digital skills with lack of access, motivation and trust increasingly the reasons for them not going online."
Related Internet Links
The BBC is not responsible for the content of external sites.