Firework burn girl, 4, makes safety plea to friends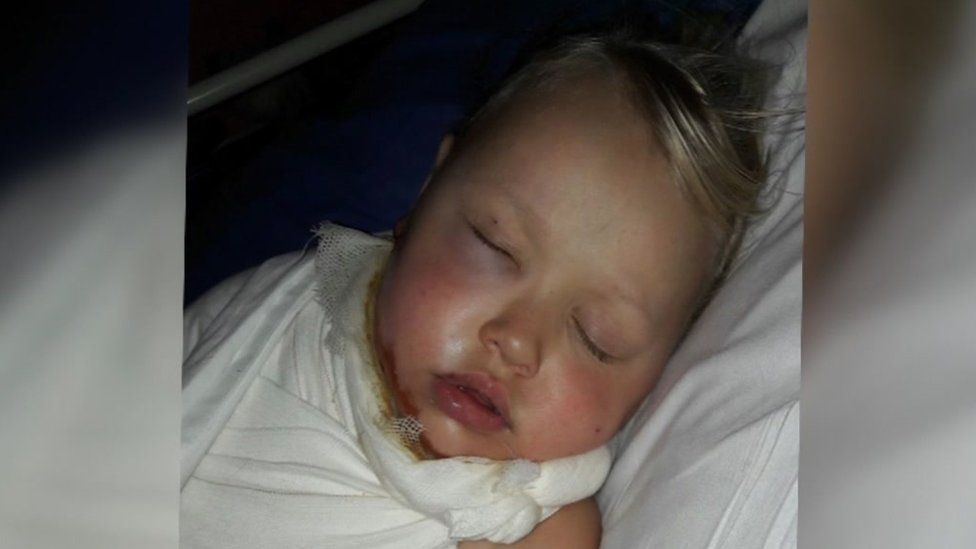 A four-year-old girl has warned her friends not to get too close to fireworks after she was scarred for life by a rocket.
Rosie-May Mason spent five weeks in hospital after she was hit in the neck at a private display last year.
Her parents are calling for a ban on the future sale of fireworks to members of the public.
The British Fireworks Association (BFA) said a ban would be "heavy handed" and fireworks should be used responsibly.
"I tell my friends to not go close to fireworks because they are hot and they might burn you," Rosie-May told BBC Wales.
Rosie-May's mother Ellie Mason said she would never forget the "horrific" sight.
"There needs to be more regulations - it only takes one to go wrong to turn your world upside down," said Mrs Mason.
However, BFA vice chair Steve Raper said restricting sales would create a black market that would lead to people getting their hands on unsafe and unregulated fireworks.
Rosie-May's accident happened while at a small display in a back garden with family and friends.
"We made sure the kids were standing well back and well away," said Mrs Mason, who lives in Cwmbran.
"But then the next thing, one of these multi-shot fireworks didn't go straight up and instead flared off and hit Rosie-May."
The child was taken to the Royal Gwent Hospital, before being transferred to a specialist burns unit at Morriston Hospital, Swansea.
"She needed to have something called a chemical bath and skin grafts as well. Doctors took skin from her head, which meant most of her hair had to be shaved off."
The parliamentary debate was triggered by a petition calling for the ban that attracted more than 111,800 names. During the debate she called for the UK government to hold a proper consultation on the issue.
However, Mr Raper, of the BFA, has branded any suggestion of a ban as a "ridiculously heavy handed" response.
He said: "Of all the incidents I have seen over the years of spectators getting injured by fireworks, it has been as a result of safety guidelines not being properly followed.
"The packaging makes it clear that people should stay a minimum of eight metres away from a lit firework and ensure that they are kept upright.
"The industry is properly regulated and products adhere to strict safety guidelines.
"If you ban the sale to the general public, then it won't stop the demand. What it will do is drive it underground where people get their hands on unregulated fireworks.
"A ban is wholly unnecessary. More people get hurt in bicycle accidents per year than by fireworks, but no-one is calling for a ban on bikes."
Related Internet Links
The BBC is not responsible for the content of external sites.