Towns eyeing big chains to pull shoppers 'doomed to failure'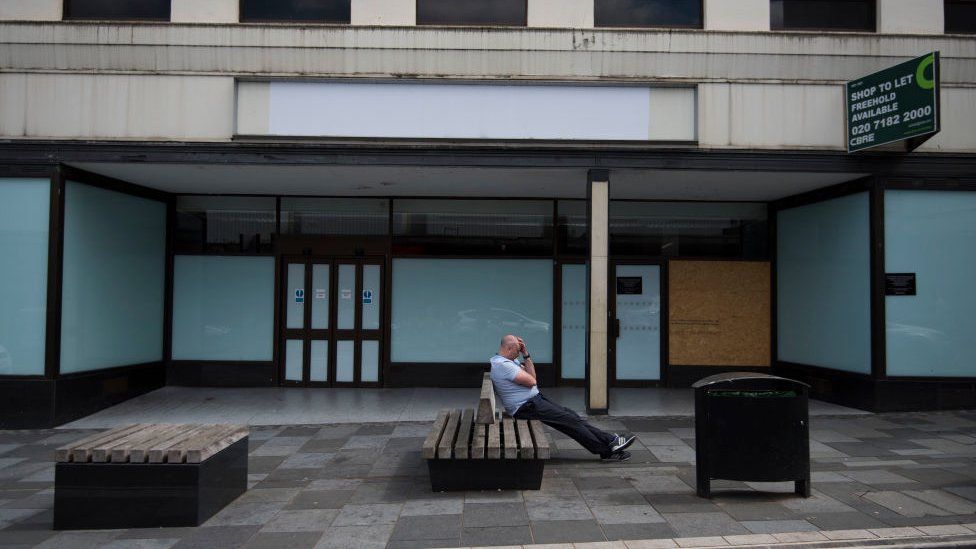 Small town centres relying on big name stores such as House of Fraser and Debenhams to lure shoppers are "doomed to failure", experts have warned.
The two giants are among a number which have struggled on the high street with online shopping, paid-for parking and business rates being blamed.
A retail expert said the focus should be on what communities want.
And the Federation of Small Businesses (FSB) has called for a fund to help towns make their own plans.
The calls have come after the Welsh Government launched a campaign to encourage the public to support the retail sector.
Vacancy rates were 13% in town centres in Wales in 2017 compared with 11.1% in England and 11.9% in Scotland.
Chris Parry, a retail expert at Cardiff Metropolitan University said plans to pull in big name stores to entice shoppers were "doomed to failure".
"What we have, especially with smaller high streets, is the heart of the community and there needs to be more engagement from communities about what works there," he said.
"Every high street is different and every high street needs different solutions going forward. We need to be innovative."
Most towns have lost shops since 2013, but Treorchy is one of the areas which has seen an increase, according to Alison Chapman, owner of gift shop Wonder Stuff and secretary of Treorchy chamber of trade.
"I think the key is for shops to work together to create an experience for the shoppers," she said.
Nathan Howells, manager of the Play Yard, a children's soft toy play area, said customer engagement was key.
"I think we lost that with the growth of big chain stores and people now want it back," he said.
Shopper, Les Price, 80, from Ton Pentre, said: "They've got lots of smaller shops offering something different you haven't got in the supermarket.
"And it seems to be working because it is busy here. It offers a sense of community here and everyone seems to know each other."
Ceredig Davies is an independent shop owner in Aberystwyth and councillor representing the town's central ward on Ceredigion council.
He said a popular belief over the last 20 years that small towns needed to have larger anchor stores to succeed has had the effect of pricing smaller independent shops out of business.
"Small businesses have suffered as multi-nationals and large companies are only interested in market share so are willing to pay top rents for properties in our town, which puts up rateable value," he said.
"The high street and retail is going through a transition and correction in the way they run business, but that correction has detrimental effect, particularly on small businesses."
He added: "I think we could see a lot of us going to the wall."
Kevin Critchley, manager at Eagles Meadow shopping centre in Wrexham, said it was suffering like many others and blamed out-of-town retail parks with free parking.
"We've got lots of shops that are closing and nobody taking up the spaces," he said.
"I think really you need to start protecting the big chains and the big companies in towns which will then feed and help the small independents."
Jennifer Hanlon, who runs an independent boutique in Caernarfon, said business was good.
"I think Caernarfon's a different town to many others because obviously it's a heritage site and we haven't got massive big out of town shops.
"We are a very well supported town as well by the local community which makes a massive difference."
The FSB said the focus on city deals with financial backing for the regions around Cardiff and Swansea Bay risks ignoring small towns where 40% of the population lives.
Ben Cottam, from the FSB, has highlighted to Finance Secretary Mark Drakeford the UK chancellor's Budget announcement of two initiatives to help high streets in England - a business rate relief element and the "Future of the High Streets Fund".
He said: "There's a danger that by having a preoccupation with regional thinking and city deals that we overlook a great chance of the Welsh economy and our local communities.
"Big businesses, certainly the multiples, are part of this conversation but we have had too much 'copy and paste'.
"Every town centre wanted to look like the next town centre, every town centre wanted the same sort of anchor stores.
"That's a model that we've had for the 30 years but it's not a model that's going to continue to work.
"We've seen some of the big brands, like Debenhams, House of Fraser, Maplin really struggling in exactly the same way as many of smaller retailers so what we really want is businesses, both large and small, to collaborate, to own their space."
A Welsh Government spokesman said last year it launched a £100m programme of "targeted regeneration investment" along with a £20m town centre loans fund to "bring underused, empty or derelict sites in town centres back to life".
And he added that government was considering how any extra funding as a result of the Budget can "best be used".
Related Internet Links
The BBC is not responsible for the content of external sites.