Ambulances on amber calls 'getting to sickest first'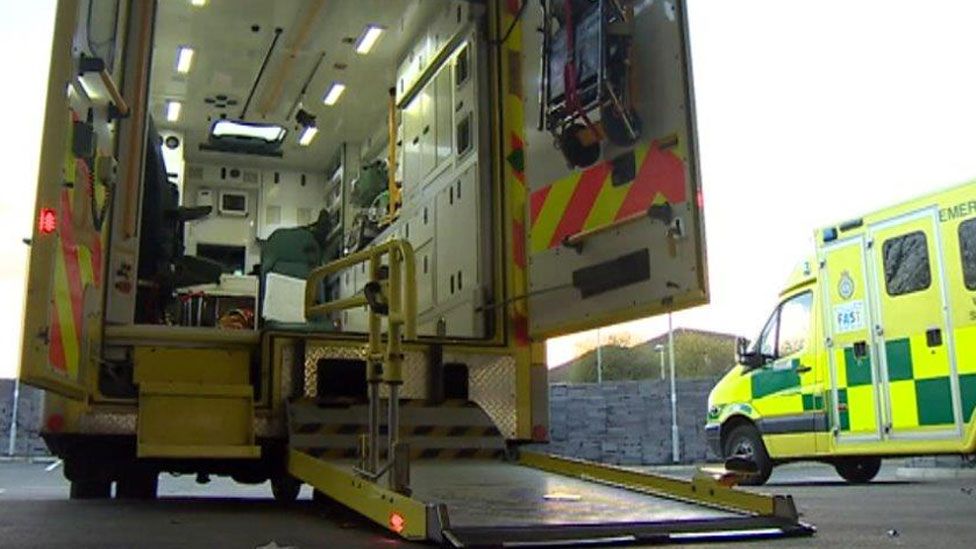 The Welsh ambulance service is getting to the sickest patients first and they are not being put in danger, says a review into so-called "amber" calls.
More than 536,000 calls to patients with strokes, chest pains or those not considered in immediate danger over the last two years were looked at.
Some patients had long waits and improvements were needed.
A traffic light response system was introduced in October 2015 as part of a big shake-up of the service with red calls - for life-threatening cases - subject to response targets.
But long waits for ambulances last winter prompted calls for a look at the amber category, which deals with the majority of calls.
In December a wait of 54 hours for one amber call was recorded in north Wales - although the patient was at a hospital waiting to transfer for specialist treatment.
A wait of 43 hours was recorded in the Abertawe Bro Morgannwg health board area in February.
Chief Ambulance Services Commissioner Stephen Harrhy said the service was experiencing a "significant increase" in calls year on year.
"I am assured however from this review that the majority of patient outcomes are not affected by ambulance response times alone. This is not to say some patients have not had negative experiences and I am determined that these will be reduced," he said.
Mr Harrhy wants a review into long waits - and a hospital-by-hospital plan to tackle turnaround times and handover delays to ambulances forced to wait outside A&E units before patients could be taken inside.
More than 122,200 hours were lost over the last two years by handover delays.
But the review found that the care patients were receiving while waiting inside ambulances was good and not increasing the risk to their health, although it acknowledged to be a less than ideal patient experience.
It also found there had been 90 "serious adverse incidents" - two thirds during the last winter period. Most of these were due to delays in getting there and resource availability.
About 62% of calls are categorised as amber but 59% of ambulances arrived within 20 minutes and 87% within an hour.
But there was still a "tail" of long waits - many non-injury falls involving the elderly, who still needed to be checked out.
The median time for an amber call over the last year has ranged from 16 minutes, 55 seconds in October 2017 to 34 minutes 41 seconds in the middle of the NHS's winter pressures season in February.
But during the two year review period it had risen by an average of seven minutes.
The review applied a score system to analyse the condition of patients and found they were not coming to harm or getting worse because of long waits, even though their experience was not what it was supposed to be.
Staff sickness was an increasing issue and there could be a gap between the staff hours planned for and those available.
Welsh Ambulance Service chief executive, Jason Killens, said the review had brought into focus the need for improvement across the unscheduled care system.
"The good news is that the review found that the clinical response model is fundamentally sound, which is something we welcome," he said.
"However, we recognise that we have more to do in ensuring we have sufficient resources available to meet the needs and expectations of all our patients, some of whom are waiting longer for help than any of us would like."
'You don't want see your mother going through that'
Kevin Payne's mother Patricia, 71, has had two strokes. When she had the first stroke in June 2016 she was not seen for nine-and-a-half hours.
"I know that if you can get drugs within the first four hours there is a chance of recovery," said Mr Payne, from Cardiff. "The damage was already done, it was irreparable."
The second one was in January 2018 but it was ranked as an amber call and the family could not be given a time when the crew would arrive.
"We made the decision to take her to hospital in the car, so my brother drove her up to Llandough," he added.
"They told us we were actually in the wrong hospital but that they would treat her there if they could not get an ambulance shuttle to take her across to the Heath.
"We waited a few hours and they decided to give her the drugs to thin the blood to halt her stroke and around about midnight they moved her to the Heath. Fortunately, my mother survived but it's been a slow road to recovery."
Health Secretary Vaughan Gething said there were opportunities for improvement but the new model was "the right thing to do".
"The majority of ambulance staff that took part in the review said they believe the prioritisation system works well - and the number of vehicles attending amber calls has decreased," he said.
"This should give us confidence that we are getting the right resource to people, first time. That should improve clinical outcomes for people with conditions like stroke, heart complaints and fractured hips."
Conservative health spokeswoman Angela Burns said there was plenty of room for improvement and called waits of more than 60 hours over the winter "beyond unacceptable".
"Although it is excellent to hear that the sickest patients in Wales are being treated first, there are still tens of thousands of people each year waiting incredibly long for an ambulance," she said.
Meanwhile, Plaid Cymru has called for an ambulance target for stroke patients.
Party health spokeswoman Helen Mary Jones said she was "disappointed" there was not a focus on conditions like strokes, which required a timely intervention.
"It can't be right that the ambulance service does not have a time target for patients having a stroke," she said.
Llinos Wyn Parry, director of the Stroke Association in Wales added: "We're concerned that without a target for getting stroke patients to hospital, we won't see an improvement in the emergency stroke care received in Wales."
Dr Brendan Lloyd, medical director of the Welsh Ambulance Service, said there was evidence that under the amber category, ambulances were now getting stroke and heart attack patients to hospitals quicker than under the old system "when we were simply sending anything just to stop the clock".
Related Internet Links
The BBC is not responsible for the content of external sites.