Universal credit: Mum forced to use food bank 'so low'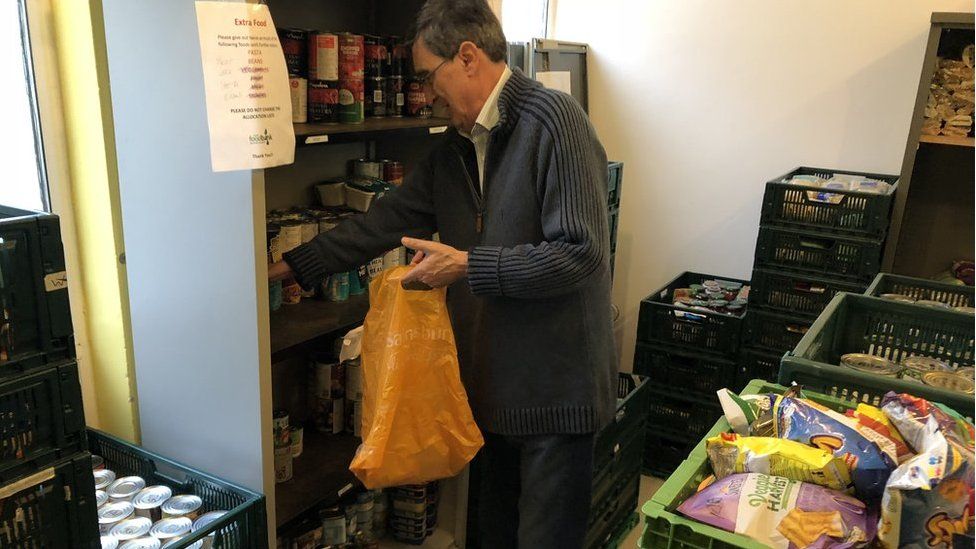 A mother-of-three who has been using food banks while she waits for her first universal credit payment said she has "never felt so low".
Speaking at a food bank in Cardiff, the woman, 37, said she feared being unable to buy her children Christmas presents.
One charity said a minimum five-week wait for a first benefits payment could mean more people needing help.
The Trussell Trust reports food bank use up 13%. The UK government said they were used for different reasons.
'I have to tell the kids no'
Ruth, not her real name, has worked all her life and lived relatively comfortably.
However, she recently lost her job and, because she was a new applicant for universal credit, was told she must wait at least five weeks to receive her first payment.
With no savings and no alternative income, Ruth had to ask for an advance payment of £1,300, which she received.
But almost all of this went on rent and bills, leaving her with very little money to buy food for herself and children.
"Christmas is around the corner. I have always worked so to go from that to nothing in weeks is awful," she said.
"My kids can't have anything. I have never felt so low. The kids definitely know because I have to tell them no when they ask for things.
"Never in a million years did I think I would be using a food bank."
What is universal credit?
It merges six benefits (income support, income-based jobseeker's allowance, income-related employment and support allowance, housing benefit, child tax credit and working tax credit) into one.
It was designed to make claiming benefits simpler. A single payment is paid directly into a claimant's bank accounts to cover the benefits they are entitled to.
Claimants then have to pay costs, such as rent, out of their payment. It can be claimed by people whether they are in or out of work - but payments decrease as you earn more.
The Trusell Trust said it has seen a 13% rise in demand for emergency food packages across Wales on the same period last year, distributing almost 49,000 emergency food packages between April and September.
Helen Bull, development manager at the trust's Cardiff foodbank, said she was shocked by people's "desperately sad" stories.
"There was a guy who came in the other day who said he hasn't been able to afford shampoo, so he used fairy liquid," she added.
Ms Bull said the main causes of people needing to use food banks were low income, benefit delays and changes, as well as relationship breakdown or sickness.
Parents with three or more children are not usually allowed to claim Universal Credit and must claim legacy benefits such as job seeker's allowance, housing benefit and child tax credit, but there are exceptions to this rule.
The Department for Work and Pensions said it had just announced further incentives to work, including the amount claimants can earn before payments begin to reduce.
This is in addition to other improvements such as 100% advances, the spokesman said.
He added: "The reasons why people use food banks are complex, so it's wrong to link a rise to any one cause."
Related Internet Links
The BBC is not responsible for the content of external sites.