Mumbles Pier foreshore flats 'risk to wonderful view'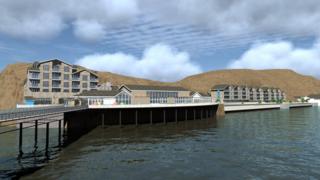 A decision to build flats and a hotel on the foreshore at Mumbles Pier near Swansea should be put on hold, campaigners against the plan have said.
Pier owner Ameco claims the £35m scheme is integral to the ongoing restoration of the 120-year old attraction.
But members of the Mumbles Action Group fear flats would spoil a "wonderful view" and claim attractions such as a lido would be better for visitors.
Swansea councillors could give approval at a planning meeting in November.
A five-storey hotel and retail complex cut into the headland is at the centre of the project, along with 26 flats on the foreshore.
Ameco said the scale of its revised scheme was "considerably smaller" than the proposal given outline planning consent in 2011, according to the Local Democracy Reporting Service.
A spokesman said: "Further delay is unnecessary and unwarranted, and could result in the loss of a full season's work which would be devastating."
The Mumbles Action Group has welcomed the £3.2m restoration of the pier, but wants the hotel and flats plan to be called in for review by the Welsh Government.
Action group spokeswoman Lynn Mann said ministers "should act to ensure we do not lose this wonderful view for the sake of a few flats".
Fellow campaigner Sarah Goodall added: "We are not against any development, but we would like development that would attract tourists; maybe an outdoor lido and a small gym."