Jobs may go as Bangor University aims to cut £5m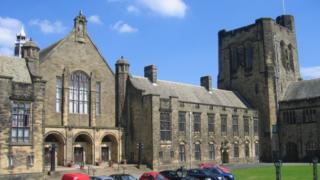 Staff at Bangor University could be made redundant after it announced it needed to make savings of £5m.
The university announced cuts of £8.5m last year, but vice chancellor John Hughes said in a letter to staff that more savings would have to be made.
The letter cites falling student numbers and rising costs for pension provisions and pay increases.
The university will be consulting trade unions. Sian Gwenllian AM said the situation was a "huge concern".
In the letter, seen by Newyddion 9, Prof Hughes said: "Voluntary redundancy terms will be considered in specific areas, but unfortunately, the need for compulsory redundancies cannot be ruled out at this stage."
Ms Gwenllian, Plaid Cymru AM for Arfon, said the university must avoid compulsory redundancies.
Bangor University managed to find savings of £8.5m last year without making any staff redundant.
A university spokesman said: "Due to a range of issues, the university's income levels are likely to remain under further pressure over the next few years.
"As a result, the university is looking to reduce its costs, whilst at the same time seeking to maximise income wherever possible."
Cardiff University has also told staff it is "currently exploring how we address our financial challenges".