Taser 'played no part' in soldier Spencer Beynon death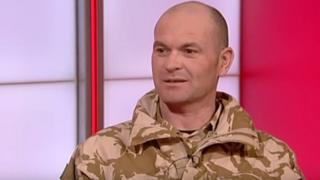 A former soldier who died shortly after being Tasered by police was not killed as a result of an electric shock, a pre-inquest hearing has heard.
Spencer Beynon, 43, from Llanelli, died in July 2016 just yards from his home after police were called over concerns about his behaviour.
Dyfed-Powys Police said Mr Benyon had a wound to his neck and the shock "played no part" in his death.
The inquest, at Milford Haven, has been adjourned until 13 December.
Sophie Khan, representing the family, said: "When the police attended the scene and saw Spencer Beynon bleeding they had an obligation to provide him with first aid, to protect his life.
"That did not happen. The Taser was then discharged and Spencer died."
She added police did not perform any first aid on the former soldier.
But Barney Branson, representing Dyfed-Powys Police, said: "Three experts are of the unanimous view that a Taser was not the cause of death.
"He was Tasered after he had injured himself. It played no part in the cause of death."