Doubt over building for new Welsh contemporary art gallery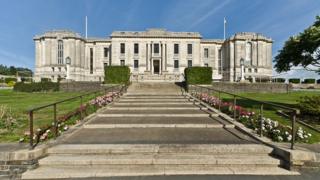 A planned national gallery for contemporary art may be housed in an existing building rather than a brand new centre, BBC Wales understands.
A new building is under consideration by the Welsh Government, but existing galleries, such as the National Library of Wales, may be used instead.
Culture minister Lord Elis-Thomas is expected to announce the final decision at the end of November.
The Welsh Government said all options were still on the table.
As part of Plaid Cymru's support for the Welsh government's draft budget in 2017/18 the culture minister committed to conducting a feasibility study for creating a national gallery of contemporary art, and a sport museum.
Since then, work has been under way to assess what kind of gallery would be needed to showcase the best of Wales contemporary art.
The sites would display new works by contemporary Welsh artists, house exhibitions from existing collections, and provide education and training opportunities.
Karen MacKinnon, the director of the biannual Artes Mundi prize for contemporary art, said Wales "absolutely" needed a new gallery.
"What form it takes, I'm not sure, but I think we definitely need a contemporary art gallery for Wales to strengthen the current ecosystem," she said.
An alternative to a new gallery which has been suggested is the National Library of Wales in Aberystwyth.
Artist and blacksmith Angharad Pearce Jones said the annual exhibition at the National Eisteddfod was the only place many contemporary artists could show their work in Wales.
"I would love a national gallery for contemporary art. Every year I go to the Eisteddfod open art show and you get a snapshot of the most interesting things happening in Wales that year," she said.
"The people are there, the work is there, but there is nowhere for it to shine."
She said an industrial area like Port Talbot would benefit from a new gallery.
"It is an ideal place. It is the Turin, the Milan, of Wales. It is an industrial as well as a very cultural place. They have already had performances by Michael Sheen on their streets, the new Netflix film Apostle was made in Margam Park overlooking the steelworks. It's a cultural, fascinating place.
"You don't have to start with a big building, it could just be a box initially. But I think it has got to be fresh and new.
"I don't want to take away from the fantastic gallery system that we already have in Wales. Together, they make a contemporary art gallery for Wales, but it is disparate, it is everywhere, and I think we need the one building as well."