Wrexham rubbish £1m overspend partly blamed on agency staffing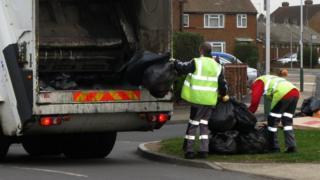 Bin lorries in Wrexham are increasingly being driven by agency staff, a council boss says, contributing to an overspend of nearly £1m on refuse collection.
Environmental services manager Darren Williams told councillors that lorry drivers can find better jobs elsewhere.
He said extra staff costs accounted for just over half of the overspend of nearly 30% on a budget of £3.3m.
High staff turnover and the growth of recycling were also cited as reasons for the additional expenditure.
"We're trying to reduce our agency pressure," Mr Williams said.
A scrutiny meeting on Wednesday was told refuse collection was set to overspend by £966,000 in 2018/19 - with £489,000 of it due to extra staffing costs and £477,000 through Welsh Government grant cuts.
Mr Williams said the problem stemmed from when the council abandoned kerbside sorting, according to the Local Democracy Reporting Service.
"Recycling vehicles went up from 13 and 19 and that's why we've seen a reflective increase in staffing demands," he said.
"Traditionally we've tried to recruit, and over the next four days there's interviews on."
Acton councillor Geoff Lowe said he sympathised, but asked whether staff sickness was being dealt with properly.
"My concern is this alleged large turnover in staff," he said.
"If there's anything we can do to reduce that by assisting people in difficult times then we should do that."
Mr Williams insisted it was more to do with the workforce and potential staff finding "more attractive options out there than there were before".
"We do have sickness and it is an area of work that is a manual activity and they're out in all conditions," he said.
"The turnover of staff is not particularly to do with us not managing that - it's just through people taking the option to leave or retire."
Meanwhile Wrexham council is consulting on reducing general waste collections to once every three weeks to save cash.