Church in Wales U-turn over 'too old' Ceredigion vicar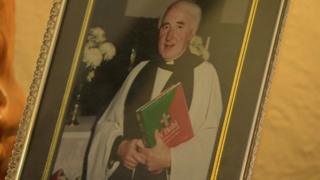 An 82-year-old retired vicar who was told he was too old to conduct church services can now carry on in his role.
The Reverend John Emrys Jones, of Ciliau Aeron, Ceredigion, was "disappointed" when informed his licence would be withdrawn because he would not be covered by insurance.
Mr Jones had been conducting services in the Aeron Valley voluntarily.
The Church in Wales now says it is "confident" clergy are sufficiently insured "regardless of age."
It apologised "for the upset and confusion caused", but Mr Jones said he should have been consulted before the first letter was sent out.
Retired ministers are allowed to officiate under an annual licence granted by the bishop.
Mr Jones had been voluntarily conducting services in Cilcennin, Ystrad Aeron, Trefilan and Cribyn because of a shortage of vicars.
But the Bishop of St Davids, the Right Reverend Joanna Penberthy, wrote to him saying that people over the age of 80 currently ministering were not covered for personal accident insurance.
The Church in Wales initially said: "St Davids Diocese takes the safety of those working within the church seriously and has recently had concerns about the insurance provision for those serving in our churches over the age of 80-years-old."
However, in a new statement the church said that after receiving legal advice it was confident all clergy were sufficiently insured and would be able "to continue their valuable service, for which we are extremely grateful".
"We are writing to all those affected and we apologise for the upset and confusion caused," it said.
Mr Jones said he had now received a new letter from the diocese confirming he would be able to continue with his duties.
"I don't blame anybody... but there should have been a consultation by the diocese before sending out the letters," he said.
"One of my main worries was that I would not have been able to officiate in any of my grandchildren's weddings or conduct any funerals."