Debenhams closures 'could devastate high streets in Wales'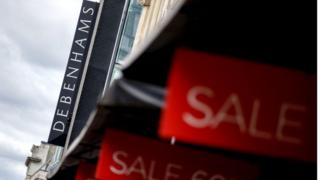 Another retail giant looks to be on the ropes - and this time it is one of the biggest and oldest on the high street.
Debenhams has announced plans to close 50 stores across the UK.
In Wales, where the firm has 10 outlets, the news has been met with shock.
Kevin Critchley, manager of Wrexham's Eagles Meadow shopping centre, said: "Debenhams is a draw so any shopping or town centre will be affected if their store closes."
Bosses at Debenhams have not yet said which stores will close and when.
But the announcement has caused worry for workers, business leaders as well as council officials across Wales.
In Wrexham's case, a closure would be an especially bitter pill to swallow as this year marks 10 years since the Eagles Meadow shopping centre first opened.
Last month, three fashion stores announced they would not be renewing their lease at the 300,000 sq ft complex - to lose its "anchor" store would be unthinkable.
But the situation in Wrexham is by no means unique. Down the A55, Bangor also faces the prospect of losing its Debenhams store, which also opened 10 years ago.
Dr Gareth Harvey, a lecturer on consumer psychology at Bangor University, said: "If we start to see a number of these stores closing in Wales then it's likely we're going to see an escalation in other high street stores struggling as well.
"A factor in this has obviously been online shopping. The internet provides us with more convenience.
"There's a lot of evidence though for some consumers that we still may browse on the high street, but we don't make that final purchase there."
And shops being used as places to browse rather than buy is something that former Debenhams employee Viv Huskings can vouch for.
Mr Huskings worked at the Newport outlet, which was seen by many as the "jewel in the crown" of the Friar's Walk shopping centre.
Ahead of its opening in 2015, more than 900 people applied to work for just 80 jobs at the city's first-ever Debenhams store.
"The first few weeks the store was very busy, but as time wore on it just got quieter and quieter," said Mr Huskings, who worked on the menswear department.
"I spent some time in the Merthyr store during my training - and there were even fewer customers coming in there.
"People would come in and try on clothes before finding a voucher online and buying it somewhere cheaper.
"For some people, Debenhams is simply too expensive. And people don't take out store cards like they used to.
"It wouldn't surprise me if the Newport one ended up going - and if it did it would be a massive shame."
That sentiment is also echoed down the M4 in Swansea - where Debenhams is the only department store left in a city once home to David Evans and Lewis Lewis.
Council bosses, business leaders and developers are hoping to transform the fortunes of Dylan Thomas' hometown, which is in the midst of a major regeneration plan following a difficult decade.
Juliet Luporini, chair of Swansea Business Improvement District, said a lot of hard work had gone into the proposed revamp.
"We don't yet know if Swansea's Debenhams store will be affected by the closures," she added.
"But in light of the fact that the Debenhams boss, Sergio Bucher, has said any closures are likely to affect stores whose financial performance was likely to deteriorate over time, then I hope this would not apply to Swansea.
"No-one can deny that these are unprecedented times for our high streets. Shopping habits are changing fast, economic conditions are changeable too, and we all need to be as nimble as we can in responding to these shifts and pre-empting them."
So what is the solution? Swansea East MP Carolyn Harris believes Debenhams bosses need to be more proactive.
"I would urge them to engage better with politicians to see what can be done to help," she said.
"It would be devastating for Swansea if we lost Debenhams."
However, The Welsh Retail Consortium (WRC) believes those in power could do more to help the retail industry.
WRC head Sara Jones said: "The Welsh Government needs to act now to support retailers by cutting the business rates bill.
"A two year freeze in rates increases would be a good place to start."
A Debenhams spokeswoman said: "We have identified up to 50 stores, accounting for under 15% of total sales, which are currently profitable, but where we do not see a long term future and which we intend to exit over the next three to five years.
"This is an ongoing five year programme and we are not disclosing a list of these stores."
---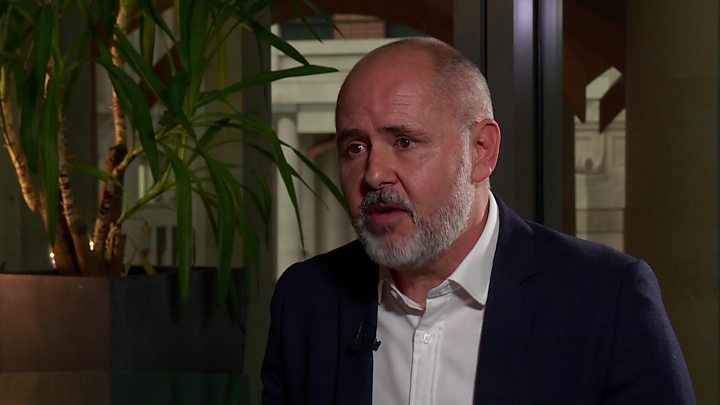 Three key questions
Why is Debenhams in trouble?
It has been affected by a combination of factors including the rise of online shopping, high rents and business rates and a collapse in consumer confidence. It has also been affected by rising costs linked to the fall in the value of the pound amid uncertainty over Brexit.
Is a takeover on the cards?
Debenhams has been the subject of takeover talk, with speculation building that Sports Direct owner Mike Ashley is set to merge it with House of Fraser, which he acquired in August. The Sports Direct boss owns just under 30% of Debenhams, close to the threshold at which he must launch an official takeover bid. In the past, Mr Ashley has taken over firms who have entered administration.
What are the experts saying?
Laith Khalaf, senior analyst at Hargreaves Lansdown, said: "Debenhams' decision to close 50 stores reflects the new harsh economic reality on the UK high street. Clicks are beating bricks, and retailers are having to cut their cloth accordingly."
Sofie Willmott, senior retail analyst at GlobalData, said: "Closures will have a significant impact on smaller town centres, many of which are unlikely to have another major anchor store. Footfall will be affected and as a result other retailers on the high street will be hit by Debenhams' closures."