Vicar, 82, told he is 'too old' for church insurance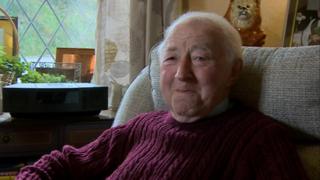 An 82-year-old retired vicar has been told he can no longer carry out church services because he is too old to be covered by insurance.
The Reverend John Emrys Jones, of Ciliau Aeron, Ceredigion, said he was "disappointed" when informed his licence would be withdrawn in December.
However, the Church in Wales now says it is "hoping a solution can be found" to allow him to carry on.
Mr Jones has been conducting services in the Aeron Valley voluntarily.
He received a letter from the Bishop of St Davids, the Right Reverend Joanna Penberthy, which said people over the age of 80 and currently ministering were not covered for personal accident insurance.
However, in a new statement the Church in Wales said: "St Davids Diocese takes the safety of those working within the church seriously and has recently had concerns about the insurance provision for those serving in our churches over the age of 80 years old.
"There has now been further advice giving us hope a solution can be found, thereby allowing these people to continue their ministry within the Diocese."
Currently, retired ministers are allowed to officiate by way of an annual licence granted by the bishop.
Mr Jones' licence is due to be revoked at the end of the year.
He has been voluntarily conducting services in Cilcennin, Ystrad Aeron, Trefilan and Cribyn because of a shortage of vicars and believes the ruling will affect rural churches.
"Two churches every Sunday will be short of a Minister to take a service," he said.
"There are two of us that help out every Sunday. They will have to rely on lay people to take the service. I'm convinced it will close certain churches if they don't have a regular Minister."
Mr Jones said he has already held 36 services this year and was "disappointed" there was not a meeting between the Diocese and retired clergy affected by the decision.
"I'm sure many of the worries that I have could have been resolved," he said.
Beti Davies, a parishioner from Felinfach, said the decision had "shocked" churchgoers.
She added: "We don't understand it. We feel they are one of us.
"You have to ask the question, will we be able to keep rural churches open? I really hope the Diocese reconsider."