Princess Anne visits south Wales to unveil mobile cancer unit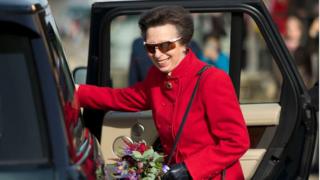 A new cancer mobile support unit for treating patients in Wales was unveiled by Princess Anne in Cardiff Bay.
The Princess Royal is the patron of Wales-based charity Tenovus Cancer Care.
It is the largest mobile chemotherapy treatment unit in the world, and will bring cancer treatment closer to patients' homes.
She also visited Ysgol Bae Baglan in Port Talbot and the RNLI station at Aberavon beach.
The Princess Royal was greeted by crowds at the unveiling at Roald Dahl Plass.
The unit is capable of seeing 30 patients a day and delivering over 8,500 treatments a year.
Claudia McVie, chief executive of Tenovus Cancer Care, said: "This is an incredibly proud day for everyone at the charity as we launch a world-leading mobile support unit that will have a huge impact on the lives of cancer patients across Wales."
She said that they want the unit to be in use 12 hours a day, every day of the year.
"The hard work starts now. We know cancer rates are 14 per cent higher in Wales than England and this places a lot of pressure on health boards," she added.
"This new unit can be part of the solution by delivering chemotherapy, screening and other treatments.
"A survey of patients using our existing units revealed 93 per cent preferred having their treatment on the unit instead of at a hospital. Each year we save cancer patients 45,000 miles of travelling to and from hospital appointments."
More than £1m was raised for the building and running costs of the new unit by the Tenovus' Closer to Home appeal, with donations from breast cancer charity Walk the Walk, the Welsh Government, Fairwood Trust, the Simon Gibson Charitable Trust and Carten100.
Nina Barough, founder and chief executive of principal funder Walk the Walk, said: "If you need to have chemotherapy this is where you'd want it to be.
"It is sufficiently medical to inspire confidence, but has a very warm, calm, welcoming and intimate atmosphere, which is exactly what you need to help reduce the fear and anxiety that many feel when diagnosed with cancer."
Health Secretary Vaughan Gething said: "We are proud to be working with Tenovus Cancer Care and the NHS to deliver chemotherapy in a community setting, away from the stress and the bustle of a busy hospital environment."
The Princess then visited pupils in Port Talbot as well as RNLI staff in Aberavon.