BBC Radio Wales posts lowest listening figures in 40th year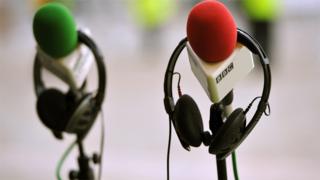 Listening figures for BBC Radio Wales have reached their lowest on record in the station's 40th anniversary year.
Audience data compiled by industry body Rajar found it had an average weekly audience of 317,000 listeners between July and September.
The figure is a decline of 50,000 on the previous quarter and 23,000 on the same period last year.
BBC Wales said the figures were a "helpful snapshot of live listening".
The figure for total weekly listeners represents the total number of listeners over 15 who listen to the station for at least five minutes.
A spokeswoman added: "We analyse these figures to ensure we continue to offer the best possible content for our audiences.
"Radio Wales is a vitally important part of BBC Wales' provision and that's why just this week we've extended the FM availability of Radio Wales to an extra 400,000 people".
In recent years radio stations in Wales have faced their greatest competition from Radio 2, prompting many to attempt to emulate its style.
When current Radio Wales editor Colin Paterson took the helm in 2017 he signed former Radio 2 presenter Janice Long.
And while a breakdown of listeners for Radio 2 in Wales is not published, it remains a strong competitor for BBC and commercial stations.
In contrast, BBC Radio Cymru recorded an increase in listeners.
Rajar data showed it had 119,000 listeners between July and September, an increase of 7,000 on the previous quarter and up 18,000 on the same time last year.
The figures do not include on-demand listening or podcasts.
Among Wales' commercial radio stations, there were increases in audiences for Capital South Wales, Heart South Wales and Swansea Bay Radio compared to the previous quarter.
But audiences fell for stations including Heart North Wales and Radio Pembrokeshire.
Data showing the performance of UK-wide services in Wales is not published.