Disadvantaged fall behind again in Wales - equality watchdog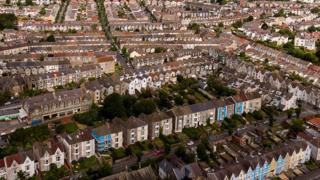 The most disadvantaged groups in Wales are falling even further behind the rest of society, a new report has said.
The Equality and Human Rights Commission (EHRC) said that while there has been some improvements since its last report in 2015, there were still deepening inequalities.
It said that poverty remains the most pervasive inequality and has led to an overall fall in living standards.
The Welsh Government said it was committed to tackling inequalities.
Ruth Coombes, the head of EHRC in Wales, said: "It is very concerning and the time for action is now. Welsh Government needs to take a lead, together with senior leaders in the public sector working with us and with others in collaboration.
"We're pleased to see some narrowing of the gaps but there are still people falling far behind in Wales and in an already divided society, those gaps are widening rather than narrowing particularly for disabled people and some ethnic minorities and that's very concerning."
The equality watchdog's The Is Wales Fairer? report collects evidence from across six areas of life: education, health, living standards, justice and security, work and participation in politics and public life.
It compares outcomes for groups in areas such as pay gaps, educational attainment and experiences of hate crime.
What has changed since 2015?
Work, education and employment: Some progress here. There has been an overall increase in employment, a narrowing in education attainment gaps for some ethnic groups but only one in five from the Gypsy, Roma Traveller community achieves five GCSEs.
High poverty levels: Nearly a quarter of adults and a third of children are now living in poverty. Homelessness is increasing. Poverty and deprivation in Wales are worse than the rest of the UK
Disabled people: They are falling further behind and being denied their right to independent living. Gaps in educational attainment and employment are widening.
Challenges to women's safety and career progression: Gender stereotypes continue to limit life chances and obstruct progress for women. Seven out of ten mothers in Wales have had a negative or possibly discriminatory experience during pregnancy, maternity leave or returning to work from maternity leave.
Race inequality: This persists, with the number of offences recorded as hate crimes increasing between 2013/14 and 2016/17 by 57% - from 1,877 to 2,941.
Justice and personal security: A backwards step due to restrictions on legal aid and prison conditions.
The Welsh Government said the EHRC's findings on the potential cumulative impact of UK Government tax and welfare reforms predicted that nearly half of all households in Wales would lose out and that the largest impact would be felt by people on the lowest incomes.
A spokeswoman added: "The Welsh Government is committed to tackling inequalities and creating a fairer Wales for everybody. We continue to work closely with the EHRC in Wales, particularly in preventing the most disadvantaged groups from falling further behind. We will carefully consider this latest report and respond to its recommendations in due course."