Police volunteer teen 'abused at Swansea City match'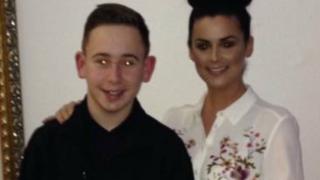 A teenager volunteering for South Wales Police was abused at a football match and had a lit cigarette flicked at him, his mother has said.
Jody Matthews said her son Jackson, 15, was called "a pig" by a Swansea City fan in the West Stand of their match against Blackburn Rovers on Tuesday.
He was wearing his uniform after distributing flyers on hate crime before the game at the Liberty Stadium.
The club has launched an investigation, adding it "abhors abusive behaviour".
Jackson is a Police Youth Volunteer and hopes to become a police officer when he finishes school.
'Furious'
A spokesman for the club said: "As a club we abhor hate crime and any form of abusive behaviour and have worked tirelessly over the years to make the Liberty Stadium a family-friendly and safe environment for all supporters to visit.
"Once our investigations are complete, including assisting the police in their own investigations, we will deal the matter appropriately.''
Miss Matthews, from Neath, said she was "furious" about the fans' behaviour.
She said Jackson and others were given free tickets by the club on the night after leafleting.
"It's the world we live in now and it's quite sad - these kids are going there to better themselves and promote good and people like that put a dampener on it, it's wrong on all levels," she said.
"He's not put off by it, last night he was a bit shook up about it but this morning he said it makes him more determined because he loves it. He's a good kid and I'm very proud of him."