Farming unions' concerns over farm support changes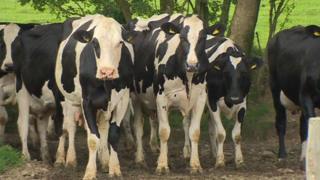 Abandoning direct support payments for farmers would damage the Welsh economy, environment, language and culture, union leaders have warned.
Wales' two farming unions have joined forces to set out their own ideas for how the industry should be funded.
They urge a rethink of Welsh Government plans, currently out to consultation.
Rural Affairs Secretary Lesley Griffiths said her plans would help ensure farms are resilient and sustainable after Brexit.
Addressing assembly members at an event in Cardiff Bay, the presidents of NFU Cymru and the Farmers' Union of Wales (FUW) said they had an "unrivalled mandate to speak on behalf of rural Wales".
"In our communities, employment figures show that up to 28% of people work in the agricultural industry," said Glyn Roberts, FUW president.
"We are united in our opposition to any proposals that may threaten not only farming families, but also those tens of thousands of individual and businesses which rely on the sector."
NFU Cymru president John Davies added that it "in these uncertain times... we must look to design a new policy through a process of evolution and not revolution".
The Welsh Government proposes two new grant schemes to replace the subsidies farmers currently receive under the EU's Common Agricultural Policy (CAP).
One would focus on economic resilience, the other on paying farmers to deliver public goods like helping the environment.
But farm leaders insist some element of direct support must be retained, otherwise farmers in Wales would be at a disadvantage compared with their counterparts in the EU and in Scotland, where ongoing payments have been promised.
More on this story:
The subsidy - known as the Basic Payment Scheme, given to farmers based on how much land they have - is set to be phased out from 2020.
Currently it can account for 80% of a farm's income in Wales
"Both myself and the first minister have been very clear that we're coming out of CAP and direct payments will stop," said Ms Griffiths.
"We will have these two schemes and what I want to know is how those two schemes should be made up - to help make farmers more resilient, productive and competitive."
What are the new payments?
An economic resilience scheme will target investment to increase competitiveness and make improvements in productivity for food production. This will include support for finding new markets, innovation and diversification.
The public goods scheme will provide money for farmers to address challenges like climate change mitigation, flood risk, habitat loss, poor air and water quality.
The ambition is to have the new schemes fully in place by 2025.
A consultation on the proposals ends on 30 October. So far the government says it has received more than 5,000 responses.
The unions say they want future funding plans to be designed around five key principles - providing stability, a focus on family farms, support for rural communities and welsh jobs, rewarding sustainable agriculture and environmental outcomes.
Environment groups are set to join forces later this week to urge ministers to stick to their plans.
On the steps of the Senedd they will unveil artwork commissioned to depict the decline of farmland species such as curlews, water voles, marsh fritillary butterflies and lapwings in Wales due to habitat loss.