Demolition plan for Cardiff's historic Gaiety cinema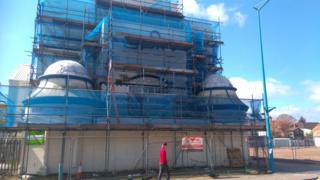 Plans to demolish a historic cinema more than 100 years after it opened have been submitted.
Gaiety Grand Cinema on Cardiff's City Road opened in 1912, and later housed bingo halls, a bowling alley and even anarchist squatters.
After more than a decade in a derelict state, the building's owners The MSG Group have submitted demolition plans.
David Lloyd, who worked at Top Rank Gaiety Bingo, said he was "saddened" by the news.
The MSG Group has given Cardiff council notice of its intention to demolish the building on 1 August 2019.
Mr Lloyd, a film producer from Llantwit Major in the Vale of Glamorgan, has catalogued the history of the building and other bingo halls across the UK.
He bemoaned the "depressing inevitability" of the announcement.
Local councillor Daniel De'Ath questioned why the building was allowed to fall into "total decay". The MSG Group has been asked to comment.
The early days
The Gaiety Grand Cinema opened the doors to its 800-seat gallery in 1912.
In the 1930s it was expanded and given a balcony, and continued as a cinema until 1961 when it was turned into a bingo hall.
'Suddenly everything was bingo'
The hall thrived as the Top Rank Gaiety bingo club from 1968 until late 1998.
"The one thing I remember is the cigarette smoke making me feel unwell," said Mr Lloyd, who got a job there as a teenager.
Mr Lloyd said his job was often "menial" and the bright yellow and blue "itchy" nylon uniform was "ghastly".
"The work was hard at times, but I was always able to have a good laugh with the members," he added.
'Rot set in'
Plans to turn the Gaiety into a pub failed after it closed in 1998 and it reopened as the Spin Bar and Bowling Alley in 2001.
But Spin changed the interior layout, replacing the balcony with a new floor and "gutting" much of its original features at which point "the rot set in", Mr Lloyd said.
The building closed in 2006. In 2012 it was occupied by anarchist squatters known as the Gremlins.
Planning approval was granted in 2013 for a bar and restaurant but nothing has come of the proposals.