Warning as Kinmel Bay dog dies from pet shop duck necks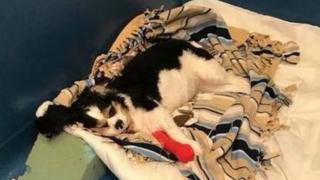 The RSPCA has warned pet owners of the dangers of feeding bones to animals after the death of an 11-year-old dog.
Katy Wilson, from Kinmel Bay in Conwy county, lost her Cavalier King Charles Spaniel Jilly six days after it ate dried duck necks from a pet shop.
Ms Wilson said she believed the food would be safe coming from a pet shop and called for such products to be removed from the shelves.
The RSPCA said bones can cause fatal internal injuries and tooth damage.
Ms Wilson said: "If Jilly's death can stop it happening to somebody else, it hasn't happened in vain - this is why I've gone public with this."
She said she bought the duck necks on 22 September and fed them to Jilly and her other dogs.
Within a few days, Jilly was restless and had diarrhoea and Ms Wilson, after taking her to the vets', attempted to take a sample.
"I put a takeaway box down under her bottom and it clunked, and that was a duck neck bone," she said.
Ms Wilson took Jilly straight back to the vet, but they were not able to save her.
"They treated her but she couldn't handle it, she couldn't cope... She went within hours.
"We think one of the bones perforated something."
Ms Wilson added her other dogs who also ate the treats had not shown any adverse reactions.
She has since been visiting pet shops and warning staff of the risks some products could pose.
"They're not really interested, they just say 'we've never had a problem before', but it clearly is a problem or my dog wouldn't have died."
Ms Wilson adopted Jilly five years ago from a puppy farm and said she "had five years of love and happiness".
The RSPCA said it was "very saddened to hear that this dog has died in this way".
"Most dogs do find chewing items rewarding and relaxing so we would encourage owners to consider other safer dog friendly chew toys and treats.
"If a pet is unwell after eating a treat, particularly if they are vomiting or gagging then immediate veterinary treatment should be sought."