New Quay coastal path couple died from hypothermia and drugs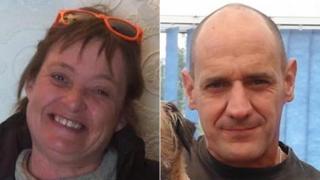 A man and a woman who were found on Ceredigion coastal path died of hypothermia and a cocktail of drugs, a coroner has concluded.
The bodies of Amanda Jayne Mousley, 47, and Emyr Jacob Davies, 49 were found near the New Quay path on 4 April.
Ceredigion coroner Peter Brunton recorded a conclusion of misadventure at Aberystwyth Justice Centre.
Low temperatures and drugs left them "incapable of retrieving themselves from the situation," he said.
The pair had embarked on a camping trip a few days before they were discovered, and their families became concerned when they failed to return.
The inquest was told Mr Davies phoned a friend saying they had found themselves in "a bit of a pickle", but the line went dead and the friend "thought nothing more" as Mr Davies would regularly phone asking for lifts.
A search took place after the pair were reported missing, and their bodies were found 100-200m apart in scrubland by the path, near camping equipment.
Mr Brunton said it was difficult to be sure whether hypothermia was the main factor in their deaths.
The inquest heard that the drugs taken by Ms Mousley included cocaine, and Mr Davies had taken methamphetamine.
Mr Brunton said the temperature, when combined with wind chill, would have been "virtually below zero" and described the scrubland as "dense", full of brambles and "unpleasant."
He said the pair must have lost one another in the harsh weather conditions.
"For reasons only known to themselves, they decided they were going to go camping, got lost and succumbed to nature and the elements and died effectively where they fell," he said.
He extended his "very profoundest sympathies" to the pair's families, and said it must have "come as a dreadful shock".