John 'Jack' Williams death: Accused 'too scared to help' pensioner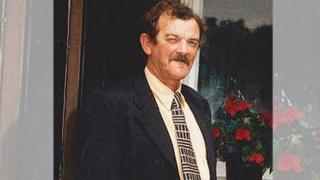 A man accused of murder said he was too scared to help a pensioner he found tied up and lying in a pool of blood.
John "Jack" Williams was found dead at his home in Pentrechwyth Road, Swansea, in March.
Simon Cairns, 46, told jurors at Swansea Crown Court that he was not inside the house when Mr Williams was attacked.
Mr Cairns, Gemma Owen, 31, and 42-year-old Jonathan Donne all deny murder, manslaughter and robbery.
The court heard previously that Mr Williams suffered serious brain and head injuries after being attacked.
The prosecution has alleged he was targeted by the three defendants because they believed he had large amounts of money at his home, where he had been growing and selling cannabis.
Giving evidence, Mr Cairns admitted to using heroin in the past but insisted he had turned his back on crime.
Frozen with shock
Mr Cairns said that on the night in question, he had given Mr Donne and Ms Owen a lift in his car.
He said he sat in the car listening to music while believing Mr Donne and Ms Owen had gone to buy drugs.
Mr Cairns told jurors he was frozen with "shock" after being called into a house by Mr Donne and seeing a man dead or dying on the floor.
He said: "I'd seen him lying in front of me. It was as bad as it gets.
"I wish I'd had the courage to untie him."
He said while Ms Owen had showed the man "compassion", Mr Donne was behaving crazily and he was scared of him.
The trial continues.