Anger as dozens see disability support cut in Wales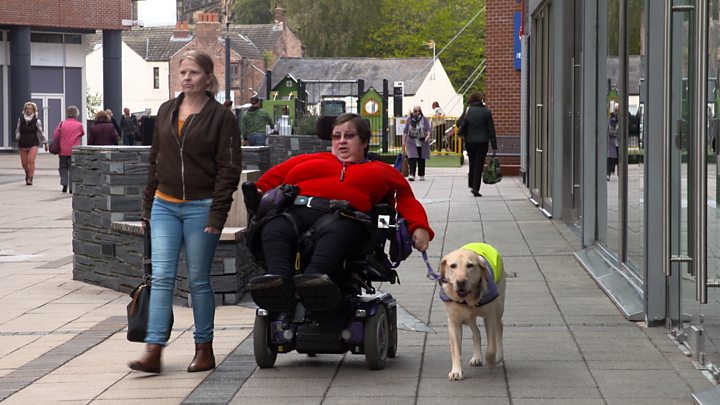 A disabled woman has expressed her anger after she became one of more than 100 people to have care packages cut following funding changes.
Cecilia Kenny, from Wrexham, has seen her support cut from 68 hours a week to 41, which she says makes her feel "not appreciated".
Responsibility for Welsh Independent Living Grants (WILG) and its 1,300 recipients has been handed to councils.
The Welsh Government said the "vast majority" are getting similar support.
Ministers had been under pressure to maintain a central all-Wales fund as campaigners feared passing the money and responsibility to councils would result in cuts.
Funding was transferred to local authorities roughly at the start of the financial year in April.
Huw Irranca-Davies, minister for children, older people and social care, said in June there "won't be losers" as a result of the changes, but promised to monitor the transition.
WILG was introduced to help people who previously claimed from the UK government's Independent Living Fund (ILF), which closed in 2015.
Those who qualify largely use the money to pay carers and personal assistants to help them live at home, work and socialise.
The recipients are often regarded as some of the most severely disabled people.
But Ms Kenny, who has cerebral palsy, said she had lost out after her care was cut by 27 hours a week following a reassessment.
She said she now plans to challenge the decision.
"It's upset [me] initially because it's my life and that's what people don't see," she told BBC Wales Live.
"It's not just making changes in hours, it's my life and it's how I live my life.
"And it's also anger because it makes me feel I'm not appreciated enough for what I do."
Ms Kenny lives in the county which has cut the most packages, with 40 of the 58 packages it has made decisions on have been reduced.
A spokeswoman for Wrexham council said it had helped people develop skills to be more independent, access "community resources" and share support "when appropriate".
"Social Services are supporting people to help promote their independence within their own homes and communities wherever possible," she added.
"This has resulted in individuals being enabled to meet their needs in different ways other than just through services provided by the local authority."
Elsewhere, 130 packages have been increased, about 350 have stayed the same, but hundreds are still waiting for an assessment.
A Welsh Government spokesman said: "The vast majority of people who have had their future support needs reviewed are, or will be, receiving support from social services of a similar nature to that they were able to obtain through their ILF payments.
"We want to ensure disabled people in Wales, whether they received ILF payments previously or not, are supported to live independently in the community where they wish to do so."
Wales Live is on BBC One Wales at 22:35 BST on Wednesday.