Witness claims Swansea husband 'admitted strangling' wife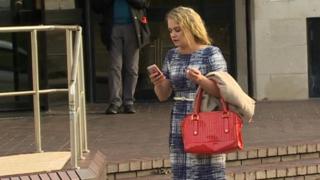 A man strangled his wife because she was "doing his head in", a court has heard.
Derek Potter, 64, is accused of murdering his wife Lesley, 66, who was found hanged at the couple's home in Swansea on 7 April.
Mr Potter told a co-worker: "I love my wife very much, but she was doing my head in so I had to strangle her."
Mr Potter, of Hill Street, Mumbles, denies murder at Swansea Crown Court.
'Shocked'
Natalia Mikhailoea-Kisselevskaia knew Mr Potter's daughter and began working with him shortly after his wife's death when he asked her to help with a roofing job.
She said they met for a drink after work in The George pub where he told her he had killed his wife and that her last words, before he strangled her, were that she "still had a crush on a schoolboy she'd known years ago."
"I was shocked but I thought at first he was just joking, so it didn't get to me at all," said Miss Mikhailoea-Kisselevskaia.
"But he was saying it with a straight face, no tears in his eyes, so I thought, oh God he's done it."
She said Mr Potter told her not to tell anyone else, but "wouldn't care" even if she did tell his daughter.
Miss Mikhailoea-Kisselevskaia said he then asked her to move in with him.
The court heard she met Mr Potter the following morning to return a coat he had lent her and to resume work on the roof.
"I asked him do you remember what you told me last night? He said, yes he remembered everything," she said.
Miss Mikhailoea-Kisselevskaia told the court she had not immediately told police because she "didn't want to get involved" but changed her mind after speaking with friends.
Earlier, the jury was told emergency services failed to find a suicide note after Mrs Potter's death.
PC Stuart Sandy, from South Wales Police, went to the house shortly after Lesley Potter's body was found hanging naked in the workshop.
"He [Mr Potter] said she [Mrs Potter] had never considered suicide in the past or tried to commit suicide.
"He said she did suffer from mental health issues and had refused to see doctors about her anxiety."
PC Sandy said Mr Potter claimed the grazes on his wife's legs were from a "fall".
Mr Potter denies murder. The case continues.