Cladding to be replaced at Prospect Place private flats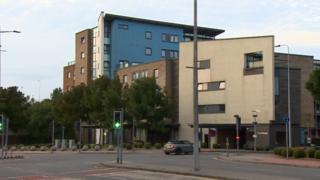 The developer of a complex of flats where cladding on eight apartment blocks failed fire safety tests is to replace it.
Residents had faced a year of uncertainty over who would pay to remove the material at Prospect Place.
But Bellway has now said it will replace the cladding at the Cardiff Bay development itself.
The Welsh Government Housing Minister Rebecca Evans said it was "extremely welcome news".
Last year it emerged that cladding on buildings at Prospect Place had failed safety tests brought in following the Grenfell fire disaster.
While not all buildings in the Cardiff Bay development were hit by the tests, Alderney House, Caldey Island House, Breakwater House, Dovercourt House, Eddystone House and the high-rise Pendeen House were affected.
Davaar House and Duncansby House also have cladding.
The company said it will replace the cladding even though it had "received regulatory sign off" for the use of Aluminium Composite Material (ACM) - the kind of cladding used at Prospect Place - at the time.
It announced in its annual results that it had set aside £5.9m to deal with "any likely remedial costs that may be borne by Bellway" in dealing with ACM.
In a letter to residents the firm said: "We recognise there are concerns surrounding cladding follow the Grenfell fire and, as a responsible developer, we want our customers to have peace of mind that the cladding will be replaced."
Bellway said it did not expect the work to start until summer 2019.
The company said it had paid for additional fire alarms in Pendeen House and is likely to install additional alarms and heat detectors in "some homes and communal areas where ACM has been used".
A spokesperson for the management firm led by leaseholders, Prospect Place Management, said: "The announcement by Bellway Homes is welcome news and gives reassurance to property owners and residents at Prospect Place who have faced months of uncertainty.
"We are thankful for the support of the Welsh Government following meetings with the housing minister to move things along swiftly."
The Welsh Government had been keen for Bellway to resolve the issue without leaseholders having to pay.
"I am sure this will be extremely welcome news to the residents and leaseholders," Housing Minister Rebecca Evans said.