Gwynedd slate landscape set for Unesco world heritage bid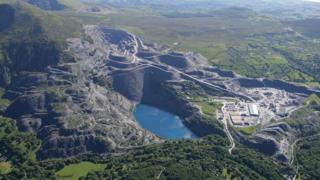 The slate landscape around Gwynedd will be the UK's preferred nomination for Unesco World Heritage site status.
The area is said to have "roofed the 19th Century world" as slate from its quarries was exported around the globe.
The landscape was assessed by a UK panel of experts this summer and will be formally presented to Unesco in 2019 with a decision due two years later.
If it succeeds, it would be the fourth location in Wales to be given the status.
The others are Blaenavon industrial landscape, the castles and town walls of Edward I castles at Caernarfon and Harlech in Gwynedd, Beaumaris on Anglesey, and Conwy, and the Pontcysyllte aqueduct spanning the River Dee in the Vale of Llangollen.
Some of the more famous World Heritage sites include Grand Canyon National Park, the Great Barrier Reef and the Lake District.
The UK's heritage minister, Michael Ellis, said: "Gwynedd's slate landscape is hugely important. Its vast quarries and mines have not only shaped the countryside of the region but also countless buildings across the UK and the world."