Rebecca Aylward's mother 'relieved' by killer's confession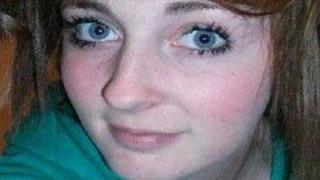 The mother of a teenage girl who was brutally murdered by her ex-boyfriend says she was "relieved" to hear he had admitted to the killing.
Rebecca Aylward, 15, died after Joshua Davies lured her to woods near Aberkenfig, Bridgend, and attacked her with a rock in October 2010.
Davies was jailed for 14 years, but only confessed in September 2017.
Rebecca's mother, Sonia Oatley, added she is scared by the prospect of his release.
Ms Oatley said she was expecting to be told Davies had applied for parole shortly before Christmas last year but was instead told he had confessed to her daughter's murder.
"It took me by surprise," she said.
"I had mixed emotions. I felt relieved that he's admitted it but at the same time I don't want him to admit it because I don't want him to come out."
During the trial, which took place in 2011, Swansea Crown Court heard Davies had bragged to his friends he was going to kill the 15-year-old, who said they would buy him a cooked breakfast if he committed the murder.
Witnesses also said he had giggled when asked where Rebecca was shortly after killing her.