Swansea husband 'covered up wife's murder as suicide'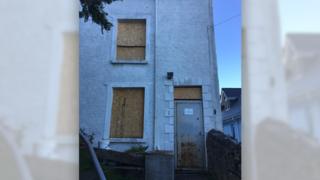 A man strangled his wife before trying to "cover up" the killing as a suicide, a court has heard.
Derek Potter, 64, is accused of murdering his wife Lesley, 66, who was found dead at the couple's home in Swansea on 7 April.
Swansea Crown Court heard the death was only reinvestigated after police received a tip-off that he had allegedly confessed in a pub.
Mr Potter, of Hill Street, Mumbles, denies murder.
Prosecutor Elwen Evans said a full post-mortem examination revealed Mrs Potter had suffered 30 rib fractures.
She said: "Mr Potter killed his wife by strangling her, using his hands.
"He then tried to cover up what he had done by pretending she had suspended herself with a ligature. He almost got away with that pretence."
The court was told police did not initially treat Mrs Potters' death as suspicious and her body was released to a funeral director.
However three weeks later, a week before her cremation was due to take place, police were called with information that "totally changed the situation".
The court heard Mr Potter confessed to a woman, who he asked to live with him, that he had killed his wife.
Ms Evans said: "As a direct result of her report of the confession, [police] started a full investigation of the death."
A post-mortem examination revealed Mrs Potter had a number of injuries including internal injuries, bruising and "other marks" on her body.
Ms Evans said pathologists could also determine a difference in signs of "manual strangulation" and hanging.
She added: "Only two people were in that house on the morning of the death, so only they know the details of what happened.
"Mrs Potter cannot tell us. Mr Potter will, we will say, not tell us."
The trial continues.