Wild circus animals banned from Powys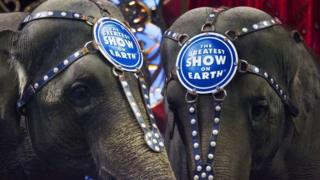 Circuses with wild animals have been banned from local authority-owned land in Powys.
It is the first council to outlaw it since the Welsh Government launched a consultation on a nationwide ban.
There are just two circuses with wild animal licences left in the UK and between them they have six reindeer, four zebras, three camels, three raccoons, a fox, a macaw, and a zebu.
Performances are banned in 18 EU countries, including Scotland.
A motion by Trewern councillor Amanda Jenner was passed by Powys Council, with one objection.
Circuses with non-domestic or wild animals are now banned from hiring council-owned land or advertising events in its properties, such as schools, libraries and community centres.
"The passing of this motion sends a clear message to the Welsh Government that they need to commit to banning the use of wild animals in circuses in Wales altogether," Cllr Jenner added.
RSPCA Cymru said it warmly welcomed the move.
An eight week consultation on the issue in Wales got under way last month.