Carmarthen's The Parrot to close despite Rhod Gilbert help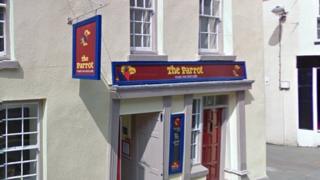 A live music and comedy club that comedian Rhod Gilbert helped save is to close.
The owners of The Parrot in Carmarthen said they can no longer "make ends meet".
The rest of the year's scheduled events will continue but the venue will close after a New Year's Eve party.
Gilbert, who comes from the town, was revealed as the mystery benefactor who donated £3,000 to an £11,000 target to keep the site open in 2014.
He helped push the appeal total past £10,000, saying: "A small town needs music venues, needs comedy venues, needs venues, live performance venues... People need them."
'Tried really hard'
The King Street venue opened in 2011 and became a leading music venue in west Wales.
However, it first got into financial difficulty in 2014 and made an appeal for help.
Despite the assistance, a spokesman for the not-for-profit club confirmed it is to shut.
"We tried, we really tried, but it has become clear to us that, despite our best efforts, we can no longer make ends meet."
Gilbert, now 50, has not commented on the announcement.
He previously said he had not been to a stand-up gig until he was 33 or even a comedy club until he was 27.
"Had we had them in that small town I would have gone," he said.