Letting signs crackdown to improve Bangor's look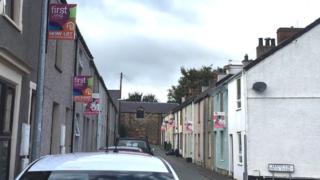 A crackdown on letting signs in areas of Bangor has been agreed by Gwynedd council and estate agents.
Complaints about streets permanently full of "To Let" boards said it gave the impression properties were empty.
Councillor Catrin Wager claimed the signs were not just unattractive but may attract burglars too.
A voluntary code in the town says signs should be fixed flat on the wall, above the front door of a property and removed within 14 days of letting.
The agreement was struck following 18 months of talks between the council and agents, who have been seeking new student tenants for the start of the academic year, according to the Local Democracy Reporting Service.
Ms Wager, who represents the city's Menai ward, told the cabinet on Tuesday: "To some people this may sound like a minor problem, but it certainly is a big issue in Bangor.
"There are some streets where these signs are displayed outside every house, giving the impression there are lot of empty homes in the city.
"But the truth is that most of these houses are not empty, they're just permanent advertisements.
"I know Cardiff's been through a similar process and they have found instances where these houses are targeted by burglars."
Dafydd Meurig, Gwynedd cabinet member responsible for the environment, said he was "confident" the code would "improve the visual environment of the city".
"The proliferation of these signs has been a source of concern," he said.
Estate agent Dafydd Hardy said he hoped other companies would follow his firm's example in removing signs.
He told the BBC: "We just felt it was something we should do - we know we had most of the boards up in the area,
"Taking them down has had a positive effect."