Disabled rail users 'feel treated as an afterthought'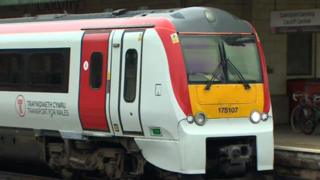 Train stations must be urgently brought up to standard for disabled passengers as only a third have full step-free access, two charities have said.
They have called on new rail operator Transport for Wales (TfW) to invest some of the cash from the £5bn franchise it started running on Sunday.
Nearly a quarter of the 247 stations around Wales and the borders are not accessible for wheelchairs.
TfW said it was committed to building a fully accessible rail network.
James Taylor, head of policy and public affairs at Scope, said disabled passengers were left feeling like an "afterthought".
He said: "Disabled people in Wales face unnecessary difficulties using the rail network every day. From lack of access to stations, to having to use massively outdated and inaccessible rolling stock.
"Time and again disabled passengers are left feeling like they are being treated as an afterthought. This urgently needs to change."
Five years ago, Cat Dafydd from Llandysul, Ceredigion, suffered a spinal injury in an accident and has been in a wheelchair since.
She has been left frustrated at the difficulties she faced travelling around the rail network.
"When you go on a train you have to book assistance, you have to phone ahead and tell them what ramps you need, how you're getting from the car park, so the station staff know what to expect," she said.
"But when you arrive the station might be completely different to what you're led to believe by phoning for assistance.
"There are steps, but sometimes there are ramps - so they think there's disabled access, but they're really, really steep.
"I tend to find that the stations don't think about what life really is like in a wheelchair, so their wheelchair access is not necessarily wheelchair friendly.
"I would really like them to have somebody who's in a wheelchair on the team deciding what happens.
"It's all very well somebody thinking they know what wheelchair access and wheelchair friendly means but unless you've actually experienced it, it's impossible to say what is actually useful or not."
Only 34% of the train stations on the network around Wales have full step-free access, with 42.5% having partial access and 23.5% either not accessible to wheelchair uses or the access to the platform is via steps.
Rhian Davies, chief executive of Disability Wales, said it was not good enough and improvements through the new franchise needed to be a "top priority".
She added: "Disabled people aren't second class citizens. We're entitled to go anywhere we want, and to have the necessary support where that's needed, to have accurate information."
Colin Lea, TfW's customer director, said £15m would be spent over 15 years to improve at least 23 stations.
"While a significant amount of work has been done in recent years to improve accessibility there is still a lot of work to be done to transform stations, some of which were built in the Victorian era and we will be working in very close partnership with Network Rail on this," he added.