Coal applications set to be rejected by Welsh Government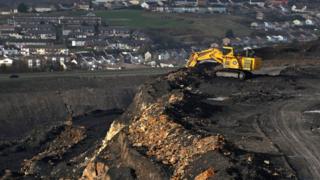 Future coal mining applications are set to be rejected as a matter of policy for the first time in Wales.
New proposed planning rules, which are due to be finalised by the Welsh Government by the end of the year, would only allow permission under "wholly exceptional circumstances".
There are two major opencast operations currently in production in Wales: Ffos y Fran and East Pit.
The Welsh Government said they were analysing consultation responses.
Haf Elgar, director of Friends of the Earth Cymru, said: "It is a historic moment. This is the end of coal in Wales after a long association and history."
She added: "We have to be aware of our global responsibility and the impact all of the coal has had over the years and to make sure that we really do play our part in Wales now to be globally responsible and to reduce our carbon emissions,"
The chairman of Tower Colliery, Tyrone O'Sullivan, which is in the process of restoring its own opencast site in Hirwaun in the Cynon Valley after six years of production, said the decision to "sacrifice" coal was a mistake.
He said: "In 25 years' time, unless something special is found, we will be developing coal again because the world has got to have energy."
The draft planning policy of the Welsh Government says: "Proposals for opencast, deep-mine development or colliery spoil disposal should not be permitted.
"Should, in wholly exceptional circumstances, proposals be put forward they would clearly need to demonstrate why they are needed in the context of climate change emissions reductions targets and for reasons of national energy security."
This proposal takes a far harder line compared with the existing guidance which says: "While UK coal is available and the generators continue to choose it, UK coal contributes to energy diversity and supply.
"Opencast coal is generally more flexible and cheaper to produce than deep-mined coal, but there are important environmental and amenity issues involved and these require very careful consideration."
The new policy would affect new applications while existing licenses would be allowed to run their course.
'Reliance on coal'
Will Watson, chief executive of Celtic Energy, said production at its East Pit site in the upper Amman Valley in Carmarthenshire was due to be completed by next year, and there were plans to restart another site called Nant Helen in south Powys next year, until 2022.
He said: "The proposed guidance is the next step in the UK and Welsh Governments' pursuit of energy decarbonisation and is not unexpected.
"Whilst we have argued unsuccessfully in the past that the reduction in energy generation from coal is being pursued too quickly, we are now moving our focus away from coal extraction to area regeneration projects post coaling.
"We are keen to continue to work with the Welsh Government and local authorities to achieve our objective of leaving a sustainable employment and affordable housing legacy in these areas where so much historic employment reliance has been placed on coal production."
The main driver of the coal industry in Wales in recent years has been opencast. Production peaked at 3 million tonnes in 1995, which fell to 1.2 million in the early 2000s.
There has been an escalation in recent years and by 2014 production rose to 2.5m tonnes with more than 80% in three counties: Rhondda Cynon Taff, Merthyr Tydfil and Neath Port Talbot.
A Welsh Government spokesperson said: "The consultation on our Draft Planning Policy closed on 18 May and we are currently analysing the responses. We intend to publish our Planning Policy Wales by the end of the year."