Ex-health boss 'leaving Wales' after losing confidence in NHS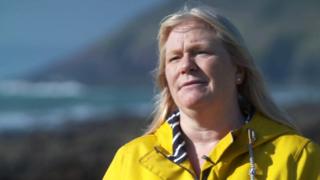 A former NHS boss plans to leave Wales after losing confidence in the health service over her husband's cancer care.
Siobhan McClelland said the Welsh NHS was "fundamentally flawed" and the Welsh Government struggled to get health boards to do what it wants.
"There is neither capacity nor capability in Welsh Government to be making really good health policy," she added.
Health secretary Vaughan Gething rejected Prof McClelland's criticism.
Ms McClelland, who lives in Manorbier, Pembrokeshire, has held senior positions on the Aneurin Bevan health board and the NHS emergency ambulance services committee.
Her husband has advanced prostate cancer and she told Wales Live there had been several failings in his care, including delays getting GP appointments and subsequent diagnostic services.
Also, a scan was misread, meaning the spread of the cancer was not initially spotted.
Mandy Rayani, director of nursing at the health board responsible Hywel Dda, apologised for the "shortcomings in care" in Ms McClelland's husband's case.
She said the health board failed to meet its standards and had put in place "a number of measures to avoid anything like this from happening again".
Ms McClelland said: "We have put our house on the market and are planning to move away.
"I have to say that the fact that we've lost confidence and trust in the healthcare system here - not the staff, the healthcare system here - is a key factor in our decision to move away because once you've lost that it's very difficult to get it back.
"We've got a fundamental problem here with health boards - not in terms of geographical boundary - but in the autonomous way in which they act."
She said health boards were neither strongly controlled by the Welsh Government, nor were they accountable to people.
"We have a void in Welsh Government where robust, rigorous, innovative health policy should be made."
Ms McClelland said Welsh Labour leadership candidates, former health minister Mark Drakeford and the current health secretary Mr Gething, both struggled to implement policy.
"To some extent I think there's a convenience factor here because it is easy for Welsh Government to almost at times abdicate its responsibility for health services and say 'that's the responsibility of the health board to make that decision'," she added.
In the Senedd on Wednesday Plaid Cymru health spokesman Rhun ap Iorwerth said that "coming from somebody as respected as Professor McClelland", her comments were "about as damning an indictment as you could hear of your running of the Welsh NHS".
Mr Gething said that while he had sympathy with Prof McClelland's personal experience, he did not accept her analysis.
"If you look, indeed, at the more recent independent review that every party in this chamber agreed to in the form of a parliamentary review, they did not agree with the criticisms that are now made by Professor McClelland," he said.
Vanessa Young, director of Welsh NHS Confederation, which represents health boards, said: "The NHS leadership has worked closely with the Welsh Government, local government and third sector organisations to develop a long-term plan for health and social care."
A Welsh Government spokesman said: "In response to the findings of both the OECD (Organisation for Economic Co-operation and Development)and Parliamentary reviews, we are creating a new NHS executive to better support and challenge health boards and trusts to deliver national priorities and improve performance."