Freerunner probed over Principality Stadium rafters picture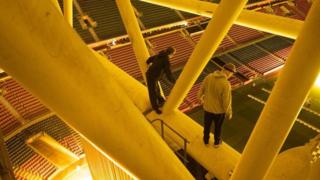 A freerunner is being investigated after he shared a picture of two people standing in the rafters of the Principality Stadium.
YouTuber Ally Law, 21, posted a photograph showing the pair on a steel girder above the pitch.
The 74,500-seater stadium in Cardiff is owned by the Welsh Rugby Union (WRU).
A spokesperson for the WRU said: "We are in discussions with South Wales Police in accordance with our policy of prosecuting trespassers."
The WRU has previously allowed freerunners into the stadium - with Sebastien Foucan leaping over its retractable roof, over a drop of 160ft.
South Wales Police confirmed the matter had been brought to its attention and was being considered.
Ally Law has been contacted for comment.